---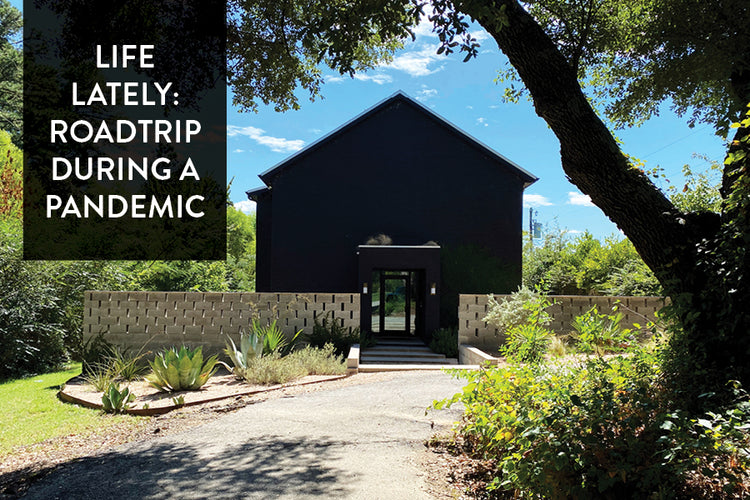 Hi friends! 

It may seem odd to be sharing this on our blog but I wanted to give y'all a little peek behind the scenes (aka my life) since you all know by now that there's a real person behind this small business :) It feels really nice to connect with so many of you via the internet and through this shop - it honestly feels less lonely when you're stuck at home 24/7.
A few months ago, I started a conversation with Evan about how we felt about taking P on a little trip. And also how we felt about our comfortability level with having a family friend plus her family join us. I know we are in the midst of a pandemic but I also feel very strongly about there being a safe way for P to get to play with other children. 
Noting that this would be her second time every staying anywhere other than our house (we went and visited my parents who live about 2 hours away from Houston back in July) and I am honestly still a little anxious going anywhere with her. And to be fair, I haven't had much practice taking her places since she's spent more of her life in a global pandemic than not. 
WHO HAVE YOU SEEN AND WHAT HAVE YOU BEEN DOING?

I had an extensive and ongoing conversation with our family friend who have two little girls around the age of 2 and 4. We agreed that we both had the same comfortability level and chatted very openly and frequently leading up to this weekend. It's strange to ask people who they've been seeing and what they've been doing but I feel that in order for me to be totally comfortable I needed to be sure that who I was thinking about spending time with was taking this pandemic as seriously as I was! My friend stays home with the girls, neither of the girls are back to daycare/school and her husband has been working from home. Evan has been working from home, and I've only been going into the shop a couple days a week (sometimes alone and sometimes with one or two of the girls but we always have masks on and we practice social distancing as well) And example is that if her girls were back at daycare or school, I may not feel okay with spending time with them since I don't know about all the people and other kids at the daycare or school. Or perhaps she may not feel comfortable with me if the shop was back open and I was interacting with more people beyond my household. 
We booked this an Airbnb months before and were open to plans changing or canceling if needed. The Airbnb  would allow us specifically to have lots of room for the girls to play and brought all of our food/groceries so we wouldn't have to leave. Not that there was any where to go to anyway! We were truly in the middle of nowhere with zero cell service.
The house was located about 3ish hours North East of Austin and had a large living, dining and kitchen area plus 4 bedrooms upstairs. A must was to have a washer and dryer plus be somewhat kid friend with space outside. And we hit the jackpot with this house. The two younger girls stayed in the room with a bunk bed and P had her travel crib in one room while Evan and I took one room, and my friend and her husband took the last room.
Also, there's an amazing screened in sunroom as well as a shaded fire pit area in the backyard that would be so incredible to spend time in cooler weather. And on one side of the house, there are four hammock style swings.
THE DRIVE 
We timed it where we left after her bottle so she would be awake in the car, be able to have a snack before we pulled over to change her diaper (it's one of her "time to go to bed" cues) read her a book and turned on her portable sound machine so she would take a nap in the car. She usually manages to take at least an hour nap which is pretty good for her. She did this both ways and the drive was not too bad.
We packed her a little backpack of car toys to entertain her while she was awake. And she only started to get fussy when we are 15-20 mins away from our house, who could blame her? Sitting still for a little baby is really hard! 
SLEEPING + NAPS
Our end goal of each day is to help set P up for a successful night's sleep. And it's no different being away from home.
We wanted to ensure she would be able to rest for her naps and at night too so it was a must for us to pack her sound machines, her favorite sleep sacks and pacifiers plus black out shades to create a cozy and dark environment. We had no issues with her falling asleep for her naps or sleeping through the night the entire weekend!
The only thing I would do different next time is to actually set her travel crib up the day or two before we go somewhere so she could "practice" sleeping in there. The first few times she woke up while napping this weekend, she cried because I think she woke up confused as to where she was.
TOP 5 THINGS I PACKED
I definitely overpacked clothes for her but overall, we did end up using almost everything we packed which is kind of insane! 
But if I had to choose, these are the things I will never leave the house without.
Sound machines (crucial since you can't really tell a 2 and 4 year old to be quiet lol)
A small fan (I know she's past the risk age for SIDS but moving air is just nice to have especially if I'm not 100% of the temperature we will keep the house at)
Her favorite books (especially the ones we read to her before her naps and before bed)
Her chair (it's a high chair that kind of anchors itself to any table top surface) + travel crib (we got one that folds into an actual backpack)
Black out shades (we have some that have suction cups to them which was helpful since this house didn't have window shades and a dark environment helps cue her that it's time to sleep)
She had an amazing time and was super stimulated just by watching the girls play and also from crawling around everywhere so we just watched her closely to make sure she didn't get overtired throughout the day. Her little eyes lit up overtime she saw the girls running around and it was so heart melting watching the two girls be so sweet to baby P!
Overall, I feel like this trip was so needed for her because it feels crazy that this was her first time getting to play with other children. To maintain the integrity and wellness here at the shop and as a part of our small team, I will be going into the shop around the times I have scheduled the girls to be here for 14 days starting today. 
Here's the listing to the modern farmhouse we stayed at - it sleeps up to 10 people so it was perfectly large enough for 4 adults, 2 small children and 1 infant! I was able to snap a few photos before the 3 tinies humans basically took over the house :)