---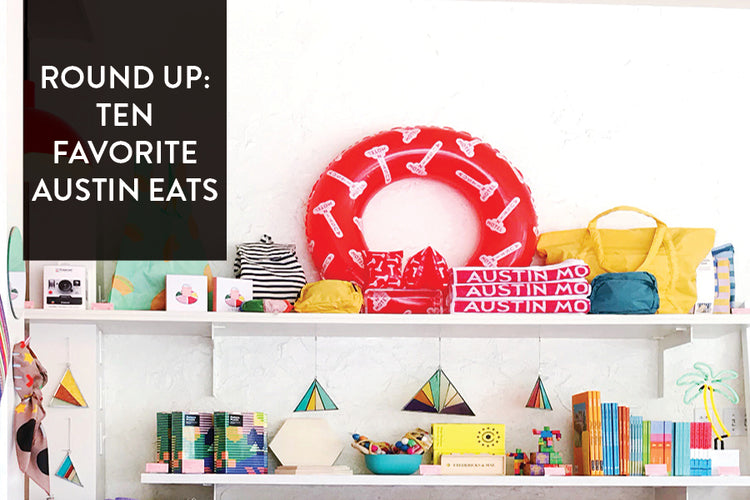 We've noticed a huge increase in out of town visitors at the shop the past few weeks and it'll likely continue as so many people like to visit Austin in the Summer time!
And I've personally had so many out of town visitors the past few weeks it's actually been really fun showing them around. Let's be real, it's also been really fun playing tourist myself :)
There's definitely no shortage of great local spots everywhere, and even new ones that keep popping up it can be hard to even keep up. But I do have a few places in my back pocket that (for better or worse- I know everyone has very strong opinions about food these days lol) are my go to places.
Here's what made the top 10 list of place I take out of towners to eat:
La Barbecue- Everyone has their favorite joint in town and this is my personal favorite.
Hopdoddy- Two words, truffle fries.
Pinthouse Pizza- I love that they have a gf option using cauliflower pizza crusts- plus their pint house salad is one of my favorites! I sub out the poppyseed dressing with their peppercorn vinaigrette and it's SO good.
Tiny Boxwoods- Hands down my favorite spot for breakfast or lunch, in by far the cutest little restaurant. I only order two things on their menu, their eggs + avocado or their burger (sub for a gluten free pita crust = a burger burrito), you can thank me later after you order the unofficial burger burrito ;)
Komé- My go-to sushi spot in town. Huge fan of of their nigiri!
Bento Picnic- Because in between all the "heavier" meals, you need something on the healthier side. I love the combination of pickled veggies and sticky rice with quinoa. This place was particularly delicious for one of my friends who was vegan!
Tumble 22- Not like I need friends visiting for an excuse to go get fried chicken, but my friend visiting from the NE wanted fried chicken and I was not going to object! I get the hot chicken and always get the kale slaw, potato salad plus extra pickles. I love that they have a wimpy option for those not into spice!
Veracruz Tacos- A visit to Austin isn't complete without breakfast tacos is it? Also the one located more North has a coffee shop tucked in- and I had a horchata espresso that was delicious.
Milk & Cookies - Right next to Tiny Boxwoods, they have a grab and go counter serving up all the coffee + pastries of your dreams.
Nadamoo Scoop Shop- I've only had Nadamoo once, many moons ago and I was honestly just indifferent about it, but holy moly- the chocolate peanut butter scoop I got in a gf waffle cone was so good. It definitely didn't taste dairy free and I'm so glad my vegan friend wanted to swing by!
WHERE ARE SOME OF YOUR FAVORITE SPOTS TO GO TO WHEN FRIENDS VISIT?
Tell us in the comments below :)