---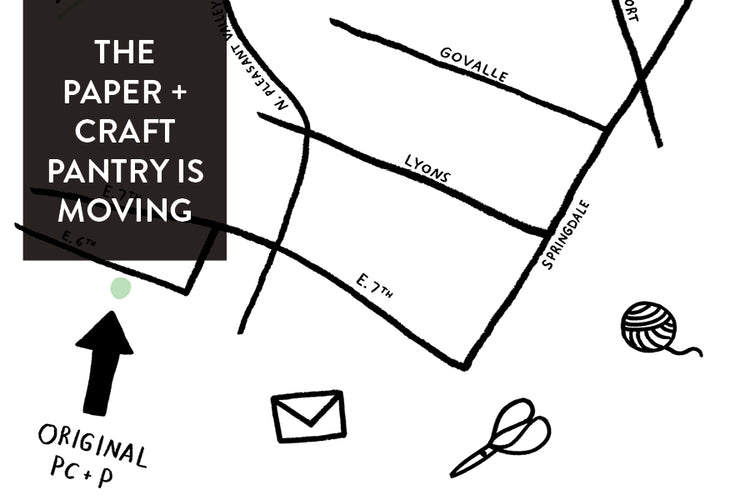 I'm SO excited to finally be able to share the BIG news, we're officially moving!
I know a lot of you will have lots of questions as to why I'm taking this next step with the business, so I figured a blog post would be the best way to share with y'all the whys behind all of this as well as some juicy information on what to expect with the new Paper + Craft Pantry. 
This is a milestone kind of next step in my small business and I'm so excited to have you all along on this journey. The side of owning a small business that most people don't see are the behind the scenes and operational things, like this move. This has been in the works, through negotiations for almost 2 full years now- and I wanted to be 100% sure everything was aligned before sharing with all of you. 
It's been a long, tiring process, and to say stressful is putting it lightly, but I know it'll be the best thing for The Paper + Craft Pantry. This move will enable us to thrive and continue to grow within our community here in Austin. And I truly feel like we're on the right path to becoming your number one destination for all things stationery and paper, as well as for all your crafting and workshop needs! 
Please read through the questions below and feel free to leave a comment with any other questions or email me at hello@thepapercraftpantry.com :)
xo,
Pei
WHY IS THE PAPER + CRAFT PANTRY MOVING?
Since opening our doors in 2015, we've grown a ton- literally we are outgrowing our retail + workshop space. From stocking our selves with 16 designers and hosting 1 workshop a week, we now work with over 70+ designers and host anywhere from 3-4 workshops a week! Simply put, we need more room for more paper, and more crafty workshops! 
In addition to outgrowing the space, we totally understand that parking has become a bit of a struggle for so many of our guests, customers and workshop students. So it was on our priority list to find a spot that would make it easier for y'all to come visit us :) 
We also wanted to find a community within our new space, and we really think we hit the jackpot when we found a home with Springdale General. We're going to have some really cool and fun neighbors! 
WHERE IS THE PAPER + CRAFT PANTRY MOVING?
Don't fret! We're not going far :) We're headed about a mile (literally down the street) from our current space and will still call East Austin our home. We'll be joining the Springdale General community at 1023 Springdale. 
WHEN IS THE PAPER + CRAFT PANTRY MOVING?
We have plans to be in the new shop + studio by July 1st, 2018, our 2511 E. 6th shop + studio will remain open for the month of June. So come pay us a last visit this month (Bonus, you'll get first pick of a TON of new stationery we ordered while in New York for the National Stationery Show!)
But you're going to want to be sure you're following along as well as signed up for our newsletter in case we end up opening our new doors sooner! 
We will update you all with a firmer date as things unfurl for us! 
OTHER THINGS YOU SHOULD KNOW
WHAT IF I'M SIGNED UP FOR AN UPCOMING WORKSHOP?
Don't worry, the show (workshops) will go on! 
You will personally be notified of any changes in workshop locations but for the month of June, all workshops will continue to be held in our current studio (2511 E. 6th Street) unless otherwise noted.
THE NEW PAPER + CRAFT PANTRY, WHAT TO EXPECT IN THE NEW SPACE? 
A card wall that is 4x the size of our current wall. I know, take a moment to let that sink in... thats over 500+ individual card designs!
A workshop studio space that will allow us to not only seat more students but to host workshops that we weren't previously able to.
So basically, a ton of stationery and a whole lot more workshop fun! 
WHAT'S GOING TO HAPPEN TO THE PAPER + CRAFT PANTRY MURAL? 
We have plans to host one last hurrah in our current shop + studio where we will bid farewell to our beloved first home, and our iconic mural. We'll toast the end of one chapter and the beginning of another. 
You'll also have the opportunity to take some last pictures before our East 6th shop + studio front closes.
p.s. We're also working on something fun to let the mural live on in our new space so stay tuned. 
NO, WE'RE NOT OPENING A SECOND LOCATION.
Once we move into our new shop + studio, we will be closing our doors at 2511 E. 6th Street.
WHAT WILL YOUR HOURS BE?
Our hours will remain the same (for the month of June and after we move)!
Monday: Closed | Tuesday: 12pm-6pm | Wednesday: 12pm-6pm | Thursday: 12pm-6pm
Friday: 12pm-5pm| Saturday: 12pm-6pm | Sunday: 1pm-5pm
HOW CAN I SUPPORT THE PAPER + CRAFT PANTRY WITH THIS MOVE? 
Keep doing what y'all have already been doing :) Each and every one of you who come by our little shop to pick up your stationery goodies and gifts or our workshop students make a much larger impact than you may know. 
Your support means the world so keep visiting us for your paper needs, and sign up for that upcoming workshop you've been eyeing. 
Also, any words of encouragements or high fives will be accepted!