---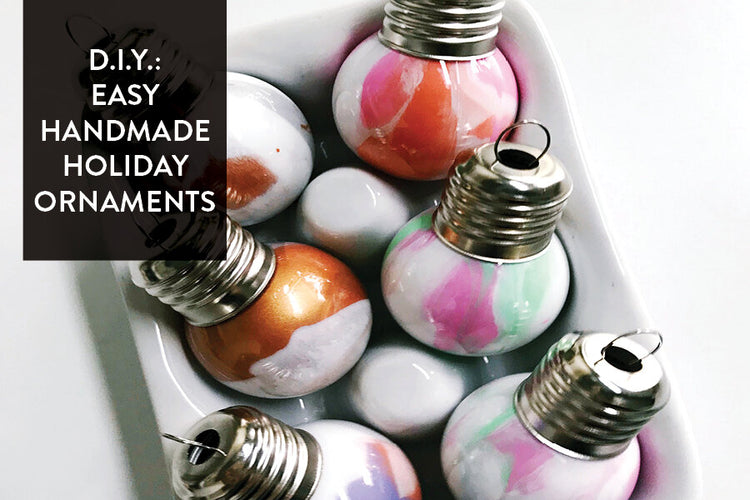 Hey friends!
With this chilling cold front, we're now officially in the holiday spirit! We whipped up these seriously easy D.I.Y. ornaments that literally just take 5 simple steps to complete. These look particularly adorable as wrapping or gifting accents, and would even look so cute in a large glass jar in your home.
We love that you can personalize it by choosing your own color palettes too! p.s. Metallics look extra festive so be sure to get some metallic paints for this project ;)
D.I.Y. HANDMADE HOLIDAY ORNAMENTS

PROJECT TIME: 10-15 MINS
MATERIALS
Shatterproof Ornaments
Acrylic Paint
Twine or ribbon
Scissors
D.I.Y. HANDMADE HOLIDAY ORNAMENTS INSTRUCTIONS:
1. Uncap the ornaments by removing the prongs + cap.
2. Add in 2-3 colors of paint right into the ornament bulb. *Pro-tip: you will want to add more paint than you think you'll need to be sure there's enough to swirl around + coat the interior of the ornament!
3. Swirl around and watch the colors blend and marble together!
4. Leave upside down to drain out excess paint.
5. Let dry over night before adding the cap back on + adding twine to your ornaments! *Pro- tip: Use an egg carton or crate to hold your ornaments to dry up right over night!
IF YOU TRY OUT THIS D.I.Y., LET US KNOW HOW IT WORKED FOR YOU! TAG US IN PICTURES ON INSTAGRAM @THEPAPERCRAFTPANTRY BECAUSE WE'D LOVE TO SEE HOW YOUR ORNAMENTS TURN OUT!