---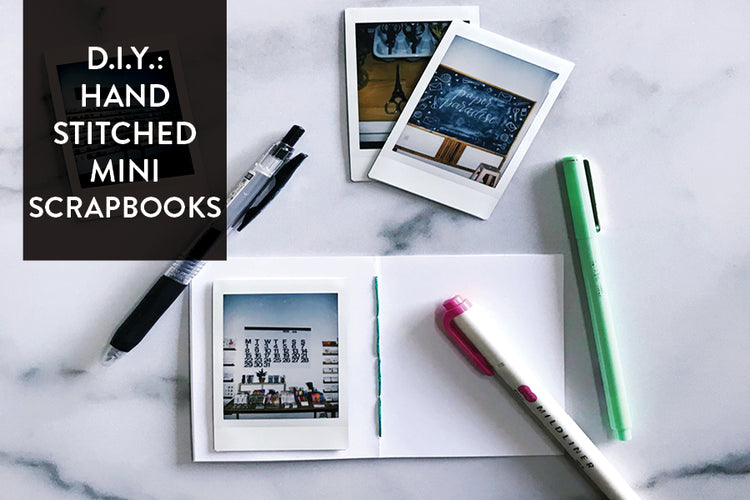 Hi everyone! I'm Alyssa (pronounced like "aleesa") and I'm one of the studio assistants at the shop you've probably seen before - you can learn more about me here :)
This summer, one of my good friends expressed wanting to reminisce more - with time flying by so fast, they wanted an opportunity to slow things down and reflect! I've always been curious about bookbinding, so I decided to take on the project of making a journal from scratch to gift to my friend (and share my love of going analog). Being completely inexperienced with this, I made tons of mistakes and it took me about a month to complete the journal! After lots of revisions, this all ended on a good note - the journal came out great and my friend has been using it as a way to wind down by writing some thoughts and memories. 
I wanted to share a D.I.Y. project with you all that would carry a similar sentiment of documenting things onto paper. With that thought in mind, Pei and I came up with the idea of a mini scrapbook- a simpler, less intense version of what I create for my friend!
This cute little D.I.Y. is perfect for documenting your summer memories and I hope you enjoy making this as much as I did :) 
D.I.Y. HAND STITCHED MINI SCRAPBOOKS

PROJECT TIME: 30-45 MINS
MATERIALS
Thread+ Needle
Push Pin
Paper Cutter
Ruler or Bone Folder
Paper (of your choice, we used light weight card stock)
Paper cutter + Scissors
D.I.Y. MINI SCRAPBOOK INSTRUCTIONS:
PART ONE - preparing your paper
1. Cut paper to size (This book is 4"x3", so I cut the paper into two 6x4 sheets)
2. Fold each sheet in half. Crease well using a bone folder or ruler. Stack the pages so they make a little book. Use the paper cutter to even out the edges if needed. 
3. Measure dots along the edge of the spine, 2cm apart. Mark the top and bottom dots first so that there is 1cm away from the edges. *Pro-tip: Start at the top or bottom first or your spine will be uneven.
4. Use a push pin to punch holes through the marked dots. This will be so you can easily push your needle through the pages, so make sure you push through both of the sheets. 
5. Measure one or two strands of thread about 6 times the length of the book. Thread needle, bringing needle to the halfway point of the thread and tie a knot at the end of the thread. 
PART TWO - stitching
1. Thread your needle and insert needle through the bottom hole, from the outside of the book. 
2. Bring needle back to the outside by going into the next hole (the one above the bottom hole). 
3. Continue to stitch along the spine, bringing needle through one hole and out the other. 
4. Once you have reached the top, continue stitching by filling in the gaps. 
5. Once you are back at the bottom, insert needle through bottom hole so that the needle is on the inside of the book.
6. Insert the needle under the bottom stitch and loop through the thread so that you make a knot to secure.
7. Push the needle back through the bottom hole, pulling the knot you just made to the outside. 
8. Trim extra threads.
PART THREE - personalize and have fun!
Now this is the part you get to have fun with adding in cute instax and polaroids, personalized notes and doodles to make your mini scrapbook adorable!
IF YOU TRY OUT THIS D.I.Y., LET US KNOW HOW IT WORKED FOR YOU! TAG US IN PICTURES ON INSTAGRAM @THEPAPERCRAFTPANTRY BECAUSE WE'D LOVE TO SEE HOW YOUR SCRAPBOOK TURN OUT!