---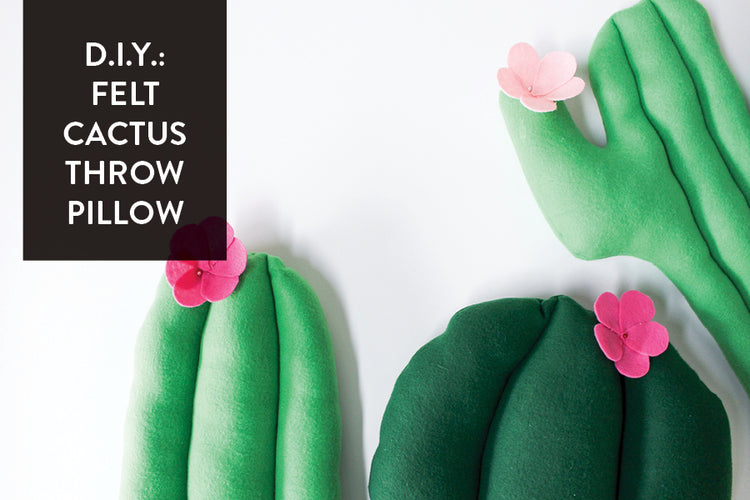 Just as we were starting to think Spring was in the air, Texas decided to pull a fast one on us with this cold front! I don't know about you guys, but we're ready for some warmer days over here at the shop + studio!
This week's D.I.Y. was inspired by our LOVE of all things plants and seems to be the perfect cozy day project to tackle. Using just a few materials and supplies (many of which you actually may already have lying around in your craft stash!) we whipped up the cutest little throw pillows that'll bring Spring time inside, even if it's frigid outside :)
CACTUS FELT THROW PILLOWS

D.I.Y. PROJECT TIME: 20-30 MINS

CACTUS FELT THROW PILLOW INSTRUCTIONS:
We wanted to create some large inviting cactus pillows which meant buying several yards of felt from our local craft and fabric store. We cut ours about 1.5ft wide and 2ft tall for each cactus pillow.
You want to measure, trace, and cut 2 pieces (one as the front and one as the back) of your desired cactus shapes. + make sure to trace the lines on the cactus to sew.
Next, lay both pieces on top of one another and sew around the entire outline of your cactus.
After that, flip your piece inside out and draw lines down the middle wherever you want your cactus grooves to shown.
Once you sew the lines you will have to individually stuff each "section". We suggest using the eraser end of a pencil or a wood dowel/stick to help push the stuffing to the very top of the cactus.
After filling each section, leave just a LITTLE room at the end of your cactus to sew closed. Then you are done, it's really that simple!
if you want to add felt flowers just cut several tear drop shaped petals and glue each end on top of the others. You can either hot glue the flower or pin it to the top of each cactus using a sewing pin.
MATERIALS
Felt Fabric
Fabric Scissors
Sewing Machine (or needle and thread)
Cotton stuffing