---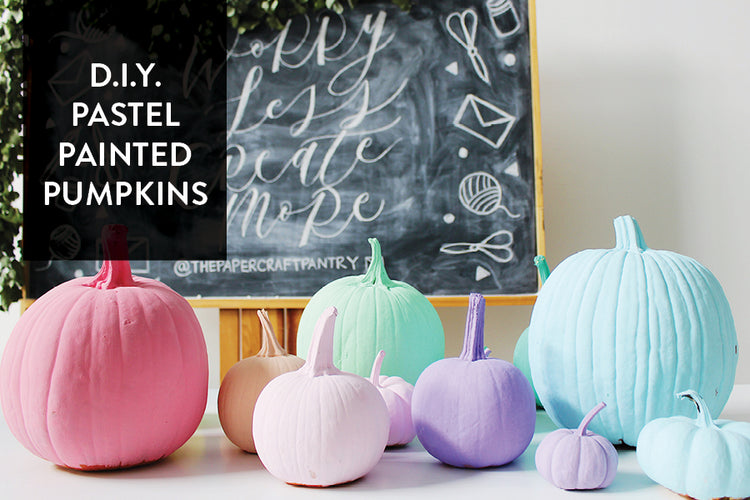 Hey everyone, happy November!
We wanted to continue the Fall celebrations with this very simple Painted Pumpkin D.I.Y. These were such a quick and easy way to add some fun color to the studio and we're certain it will do the same in your home!
Try out different color palettes that aren't the "traditional" fall colors- have fun playing around with colors :) And I mean, you can never go wrong with a pink pumpkin :)
PAINTED PASTEL PUMPKINS

D.I.Y. PROJECT TIME: 30 MINS (FOR A FEW DAYS TO LET THE PAINT DRY IN BETWEEN COATS!)
MATERIALS
Pumpkins in various sizes
Acrylic paint
Paint brushes
To start this easy D.I.Y. project, it's all about deciding the amount and color palette of your pumpkins. We hosted a "Fall Festival Market" during this past October at the shop and wanted a bright and playful pastel rainbow ombre look in lieu of the more traditional and warmer autumn colors.
The finished product made for the perfect piece for our front door to welcome guests in to our event and now, these pumpkins have a home in front of our beloved card wall!
The only thing is you need to have patience. Because of the texture and slickness of the pumpkin it takes several layers of paint and time to let each one dry. And afterward it's still incredibly easy to scratch off that paint so be careful when moving them and keep some extra paint on hand for little touch ups!
We learned after doing this D.I.Y that we would likely redo this but using faux pumpkins from the craft stores. That way, you can keep and enjoy them for many many years!