---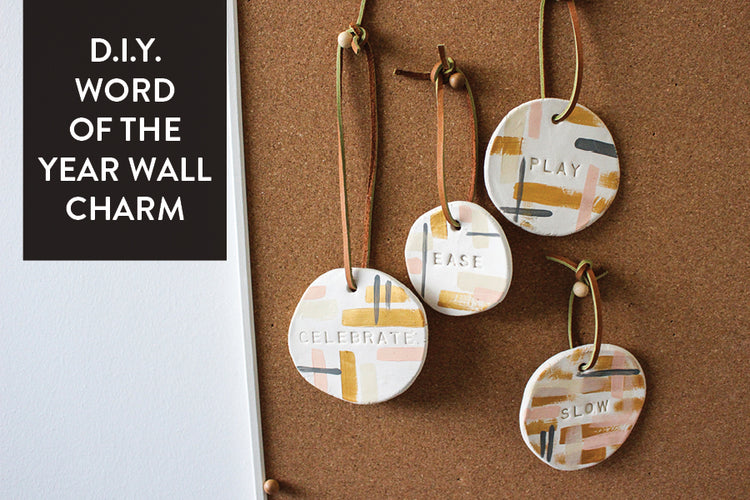 We're still riding on that new year wave of inspiration and wanted to dream up a fun way to stay inspired through the year. So many of us pick a word of the year to focus on, and it's something we think is so powerful. It's a way for you to go back to that word to check in with yourself. In a world of so much information and so much to do, it's really nice to have a physical reminder of how you intended to spend your year.
We created these simple yet beautiful wall charms to help you get creative and stay rooted in your word of the year. These also happen to make wonderful gift for friends, business partners and clients. There's no better way to open up conversation than to chat about why they chose their word and it's also an easy way to enroll someone as your accountability partner!
WORD OF THE YEAR WALL CHARM

D.I.Y. PROJECT TIME: 30 MINS (NOT INCLUDING DRY TIME)

Instructions:
We wanted to create a more organic feel so we opted to just roll out a ball of clay. You could also use metal cookie cutters to cut out specific shapes if you wanted.
We rolled the clay to about 1/4" thick in all directions for an organic shape before stamping our letters onto the surface. Using the wooden dowel, push gently through the top of the piece to create a hole for hanging.
Let dry 3-5 days (or as instructed on the air dry clay container).
Once dried, we added in some fun colors and abstract brush strokes to give each piece a little personality! Let dry before applying a coat of sealant. Add your choice of cord to hang!
MATERIALS