---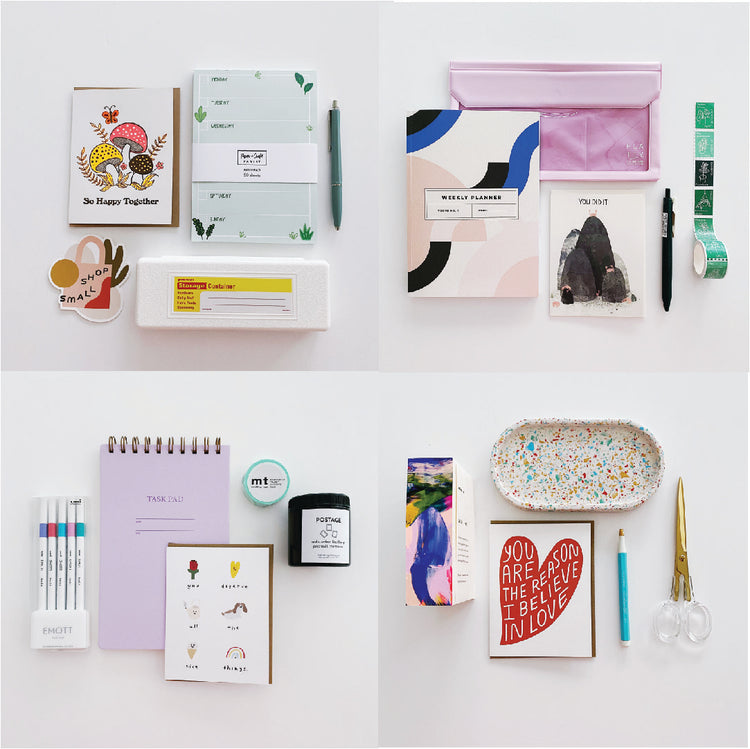 While it feels 100% like Summer here in Austin, it's technically still Spring and we wanted to give y'all an insider peek at some of the a-MAY-zing stationery in our shop! 
I always love finding new stationery for y'all and it's extra exciting when our team is just as excited - that's how I know it'll fly out our doors :)  In case you are new around here, this blog post is perfect since you'll get to know a bit about our team while seeing what some of our current favorite goods are!
Pei
Favorite Color: Currently it's lilac/lavender
Favorite Season: Winter (Christmas!)
Hobbies: Naps
Fun Fact: I was born in Singapore and am a citizen there! I also still have a crush on Justin Bieber
I love all pens but lately, this pen has been my favoite! A pro-tip is to swap out the ballpoint ink inside for the gel refill! I am also a big fan of this pen and pencil storage container; it's actually in my bag right now!
Pei's Favorites:
Card: Lucky Horse Mushroom 
Notebook/Notepad: P+CP Plant Doodle Weekly
Office Supply/Desk Supply: Penco Pencil Case
Wild Card: Shop Small Sticker
Anna
Favorite Color: Sea Foam Green
Favorite Season: Fall
Hobbies: Watercoloring, drinking coffee, listening to music
Fun Fact: I have had chronic hiccups since high school.
I love adding pops of color to my desk! This swirl pad is inspiring and helps keep all of my notes in one place. I enjoy writing with the artline pens because of how smooth, sleek, and cute they are. It's hard to choose just one color! These scissors are also useful for all sorts of small craft projects and they're easy to store!
Anna's Favorites:
Card: You Are the Reason I Believe in Love 
Pen:Leuchtturm Drehgriffel Ballpoint 
Notebook/Notepad: Moglea Swirl Pad 
Office Supply/Desk Supply: Acrylic Gold Scissors
Wild Card: Trinket Dish
Meg 
Favorite Color: Olive Green
Favorite Season: Fall
Hobbies: Going to the movies, embroidery, watercolor, lettering + illustrating on my iPad, and playing Stardew Valley
Fun fact: My husband and I drove to the top of Pikes Peak in Colorado. We had never done anything like it before and it was a really cool experience!
I love this task pad because it keeps all my daily to-do's in one place! These pens are some of my favorites because of the minimal look, the fine tip, and fade-proof ink, and bonus: the curated color palettes are super fun! This washi tape is my go to for sealing my snail mail, hanging up art prints, and taping notes inside my notebook or planner.
Meg's Favorites:
Card: You Deserve All The Nice Things
Pen: Emott Pen Set
Notebook/Notepad: Shorthand Task Pad
Office Supply/Desk supply: MT Washi Tape
Wild card: Postage Candle
Aislinn 
Favorite Color: Yellow
Favorite Season: Fall
Hobbies: reading, writing, embroidery, knitting, crocheting, random crafting, and eating anything seafood or pasta
Fun Fact: I wrote my first novel in high school and my first play in college.
I'm very picky with my planners but found that this undated one works so well for me! These pens are also great for everyday writing or color-coordinating tasks in my planner. The magnetic storage pouches have no limit of use; one of them holds my important adult papers and another one keeps all my stickers together!
Aislinn's Favorites:
Card: You Did It 
Pen: Sarasa Vintage
Notebook/Notepad: The Completist Weekly Planner
Office Supply/Desk supply: Storage Pouch
Wild card: Plant Stamp Washi tape
Have you used any of these or already own some of this? Tell us what's your favorite and why in the comments! 
p.s. Having to choose just a few things was so hard! Now we understand the tough decisions you have to make when you come into our shop ;)