---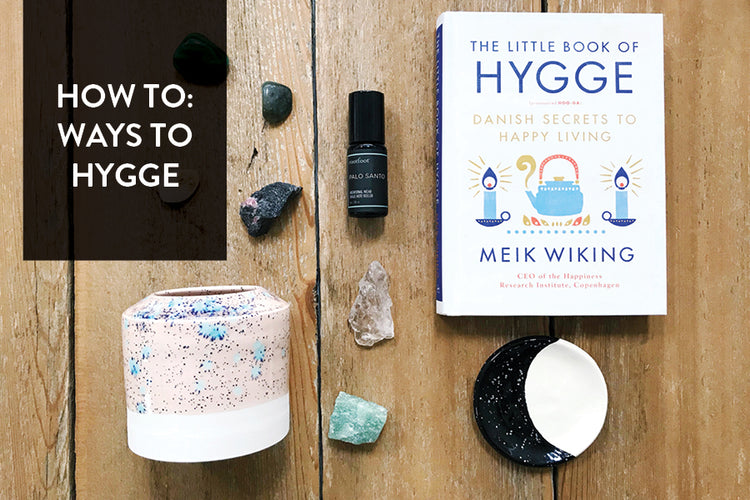 In case you missed it, we read The Little Book of Hygge back in November for our studio's book club. It was THAT good we are actually reading his second book The Little Book of Lykke for our first book club meeting of the year that's happening this month! 
For those of you who may not know what Hygge is,  we thought it was a funky name for a piece of Ikea furniture at first too! Hygge is pronounced "hoo-ga" and has been defined as "coziness of the soul", "taking pleasure from the presence of soothing things", and "cozy togetherness".
In a world that glorifies busyness, and where everything happens so fast, the idea of Hygge really struck a cord with us and we were intrigued with how we could apply some Hygge to not only our personal life, but to add some hygge for your business as well. We're sharing some of our best practices for incorporating this feeling of cozy into our every day both at home and at work. And we're also sharing a fun collaboration we worked on that is inspired by this whole idea of hygge below!
3 HYGGE TIPS FOR OUR HOME
The number one thing you need to create that feeling of hygge. Instead of saving that coveted candle you were gifted, indulge and light it (and enjoy)! 
Channel all things cozy, your favorite blanket, a mug of your favorite tea, that handmade bud vase from a local maker, this spot can become your refuge!
We love that the Danes are so great at not letting an association of guilt accompany a little indulgence. Keep a bar of your favorite chocolate in your pantry and enjoy a piece when you want!
3 HYGGE TIPS FOR OUR BUSINESS
Noticing a trend here? During the weekends and during workshops we keep a candle burning. A combination of fresh flowers, fresh candle and essential oil mist keeps our shop + studio smelling cozy and inviting! 
We want guests in our shop to feel comfortable slowing down when they come in our door. Giving them the space and time to browse through our shelves while taking a moment for themselves! We encourage folks to take their time to find that perfect card, or to pick out that special gift their looking for. 
We treat our brick and mortar like it's our home! When someone walks in the door, they're not a customer but rather a guest in our "home". We love genuinely connecting with our community that comes in and truly love that first timers always become regulars! 
We're committed to adding a bit of hygge into our every day! If you are too, you're going to definitely want to pick up this book, and this one too. While you're at it, you're probably going to need this candle (or this one) and probably add to your sock collection! Our friend Denise with Love Ding also shares all about hygge on her blog here where you can find even more downloadable and has a very hygge inspired DIY we cannot wait to try! 
Want a daily reminder of hygge?
Check out our favorites from our collaboration with Love Ding for downloadable desktop and phone background pattern play inspired by all things cozy! 
HYGGE INSPIRED
DESKTOP DOWNLOADABLES
HYGGE INSPIRED
PHONE SCREENSAVER DOWNLOADABLES