---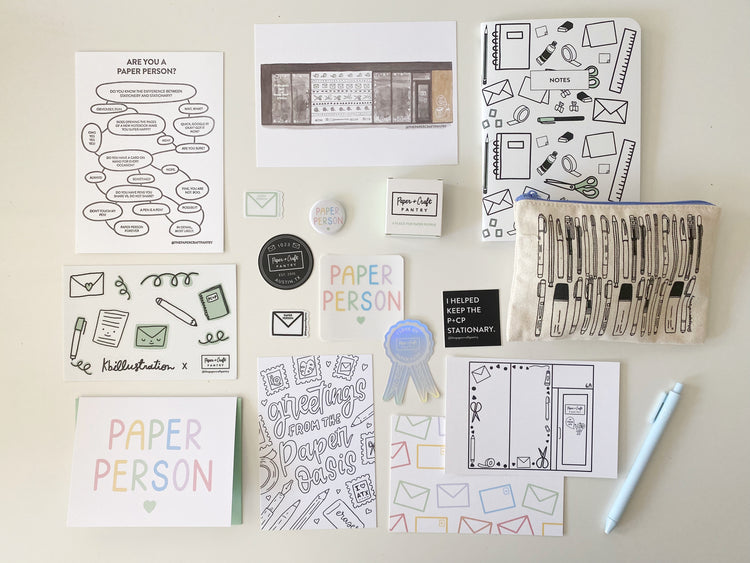 Hi paper friends! 
It's wild to think it's now been 6 months since our Kickstarter campaign went live. It both feels like an eternity ago as well as just like it was yesterday. 
So much has happened since April -  but most notably, we packed up our shop and moved into our new space! 
But before I get ahead of myself, I felt like I needed to find a moment to pause and reflect back on this incredible show of support for our community. Because it's so special to me and will hands down be one of the top 5 events of my small business career. 
If you need a little refresher or reminder, you can check out the campaign here where you can view some of the videos that explain more about why I decided to launch a crowdfunding campaign and a lot more details about the experience of trying to keep a small business alive through a global pandemic. 
I went back and forth about hitting launch for a week or so because it feels hard to ask for help. It feels scary and vulnerable to put yourself out there, in this case, in front of a lot of you who I feel like I know but have never actually met. I did some research aka Googling and found out that most successful campaigns run for 30 days. So I did a 30 day campaign. I had mapped out a loose timeline of how we would talk about the campaign via social media as well as to our in-store guests in the hopes of getting this project funded. 
I felt confident that I would be able to rally our community during the 30 days to meet our goal. I enrolled some small business friends who agreed to help talk about our campaign. I scheduled a few newsletters and Instagram posts but that was really the extent of the "plan". I ditched the pressure and stress of spending hours on marketing and content years ago. Turns out it didn't make me happy, and what makes me happy is genuinely showing up for ya'll through the products we stock our shelves, chatting with ya'll in person (and in DMs), and honestly, posting whenever I wanted to or felt like it. 
At midnight when I hit launch, names started popping up almost immediately. Perhaps a mixture of being sad I stayed up so late (lol) and also genuine bewilderment that some of y'all also stayed up late, knowing that I wasn't alone in that moment felt really special. And truly, I have not felt alone through this past year and a half with our incredible team and each and every one of you who have given me so much hope. 
I closed my laptop and tried to get some sleep before I'd have to wake up with P. And low and behold, woke up to see we were more than half way to our campaign goal. The rest of the day felt like a blur. We met our goal of 15k in less than 12 hours. And it didn't stop there, we doubled our goal in 24 hours. 
It still feels surreal and still feels very tender in my heart to think back on what I felt during that day. The immense love for our shop and the incredible show of support will forever stir up emotions for me. And I hope it never goes away because I never want to forget it.
Reaching the kickstarter goal and surpassing it has given me space to exhale a breath I didn't realize I had been holding since March 2020. It's taken a literal, physical weight off my shoulders to know I don't have to do this alone.
With our community's support and love, I was able to move the shop. The $ raised continues to be treated with a lot of care as I allocate it within the business because I know it's your hard earned dollars. And I want to honor that. 
So far the Kickstarter funds have gone towards: 
Our new beautiful store front window vinyls
Hiring Corey (our muralist) to paint our iconic mural 
Building out more card wall shelves in our new space
Building out our pen wall shelves
Purchasing our rewards products
Adding new artists and designers to our shop
Expanding our product offering in our shop + online
Growing our small, all-woman team 
Just to name a few things...
Whether or not you were able to contribute to the campaign, the fact that I have the absolute honor of calling this small business my job is not lost on me. Beyond the stationery, I love having a door (a physical door you can walk through) because it's been a life changing way of allowing me to meet so many of y'all.
And I cannot wait to continue to be your favorite little paper shop in Austin (and beyond!)
xo, Pei 
Here are a few peeks at some of our rewards :)