---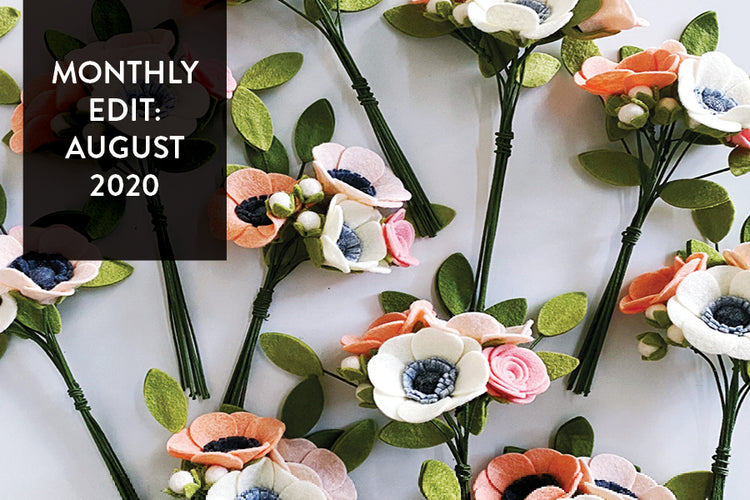 Y'all, how on earth is it August right now?
I feel like this entire year has been a blur. And I also cannot believe that back in March when we first closed, I figured it would be at most a month or two before we would be back in the store. (Literally LOL at my past self haha) I've been thoroughly enjoying writing our weekly newsletters that have allowed me to share a bit more than just on Instagram and social media - I really feel as though I'm writing to each of you and it slightly makes up for the fact that I have had little interaction in real life with other human beings besides Evan and Penelope for actual months now. 

In this monthly edit, I'll catch you up on: what's going on with the business (a check-in since it's been a little while I shared what's going on), some of my current shop favorites, a life lately (more personal) update, something I've purchased from a small business that I want you to know about, and I wanted to end it with a little reminder and virtual love note :) 

So here goes! 
SHOP UPDATE
We're still closed to the public and plan to stay this way for the remainder of the month. Depending on if the case count isn't continuing to rise, I am going to have a conversation with our girls and evaluate the possibility of weekend hours, by appointment only. I'd really love to bring back curbside on those days as well. But all of this is TBD. As much as I understand the frustration of paying for shipping when you might live close by, it's not worth it in so many ways right now to have y'all out here or have someone on our team here weekly. 
Currently, I am prepared for us to be online only for the remainder of the year. Which very honestly is terrifying as I literally have never been an online only business. I very much feel like I started a brand new business back in March when we closed our doors. The holiday season is so important for us as a retail business (and is important for so many other small businesses too) and trying to anticipate, plan and navigate it right now feels so extremely daunting and overwhelming. 
Trying to figure out how to recreate the holiday magic in our store virtually feels impossible. Trying to plan out what to buy for inventory while managing a different type of cash flow. Trying to anticipate what our community will want and need this holiday season. Trying to decide if it's insane to have a shipping/order cut off date almost a month before the 25th of December in preparation for package delays. All of this feels like A LOT. 
I know it'll all work out - and again, reminding myself that although I love our shop, nothing we offer is life giving (literally, any way). And I'm also just grateful that we have such a kind and understanding community who supports us! 

Anyway, I usually buy for the holidays later in the fall. Since we are in Texas, it doesn't quite feel like the holidays until after Thanksgiving. So usually that's when we have our holiday goods out! But now the plan is to bump that up to perhaps October - with a shipping/order cut off by Thanksgiving (If you're thinking OMG, same, girl, same. )
So that's what's weighing on my mind, my heart, and my bank account - seriously, figuring out how on earth to do all of this! 
SHOP FAVES
Okay on a lighter note... I'm so beyond grateful that with y'alls support, I've been able to continue to make purchase orders from other independent businesses to stock our virtual shelves. 
Here are a few things I'm loving lately! 
These candles are hand poured right here in Austin by a woman owned business. It's hard to pick a favorite scent - for an extra special treat, try burning both at the same time for an amazing combo scent! 


I cannot get enough of these watercolor pencils. They offer you a bit more control as you would draw, illustrate and color as you would a normal color pencil before adding water with your brush to create a watercolor effect! I've been using them to paint and illustrate some botanicals for a friend's wedding invitations.
August subscription box goodies have been ordered and I can't wait for you to see what I picked out this month! Only a few of each are left before our cut off date of the 7th this month so get yours today! 
Also, did you know we added a New Arrivals section on our website? We update this frequently as soon as new goods arrive :)
LIFE LATELY
I almost didn't want to write this section because honestly, I probably feel the exact same way everyone else is feeling right now. I feel like I'm experiencing a whole new level of tiredness and most days I'm running purely off of coffee, baby giggles and day dreams of a time when the world feels a little happier and safer as a whole. 
I know stress manifests in physical ways for me and I'm trying really hard to keep those at bay. The excuse of not having time to take care of myself first is something I have used for a very long time now, even pre-Covid and I feel like I need to reevaluate what I need to prioritize personally. 

Currently, a good place to start looks like actually committing to some form of online work out just once a week and genuinely not turning on my computer or working one day a week. Lofty goals huh? 
Something exciting personally is that our backyard update plans are in motion! The fencing material was delivered last week and will be stored in our backyard until they can come work on it. The timeline is currently last week of August for the fencing and early September for the concrete work! 
I've recently discovered a business I am so excited to share with y'all about - Beam Paints creates handmade watercolors with materials and pigments found in nature. These are handmade in the M'Chigeeng First Nation on Manitoulin Island in Canada. I ordered a few to add to to my watercolor stash and also subscribed for a monthly watercolor pod to be delivered to my home. The shipping may seem steep but it is coming all the way from Canada, and also, I don't mind it because I love knowing I'm getting to support an Indigenous owned small business monthly! 
LOVE NOTE
Something I've observed over the past few months is how truly wonderful it's been to connect with people through social media. It's a way to feel like you're still interacting with the rest of the world during quarantine - and honestly, even before all of this I've felt like one of the good things of social media is that it allows you to get to know people you may not have otherwise known or met. 

That being said, I've seen from other friends and also experienced it in perhaps a lesser severity as others, how cruel people can be to other human beings with their comments and messages. No matter if someone has 10 or 100,000 followers, it doesn't make it hurt any less when someone says something incredibly insensitive or hurtful. 

Everyone is going through their own difficulties in life, and I'd like to think everyone is doing their best. So consider this a little reminder, what we see of each other online is just a little snap shot of a whole person.