---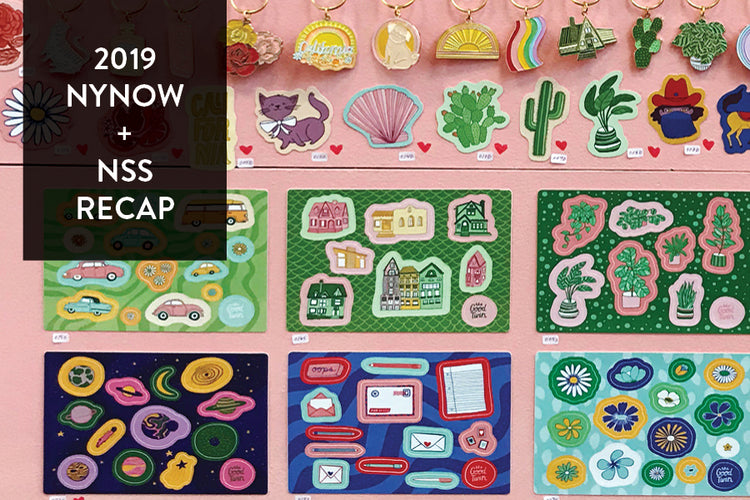 In case you missed it, I spent a few whirlwind days in New York last week to attend NYNOW + The National Stationery Show! It's my third time at the Stationery Show but my first for NYNOW - they recently combined the two making it a lot easier (and affordable!) for me to attend both. If you're not totally sure what those two things are, they are basically large trade shows where both big brands and more independent brands exhibit their brands, products and goods for the season. To say it's an overwhelming experience is putting it lightly, and even though it's not my first trade show rodeo, walking a large convention center with rows and rows of brands can take a lot out of you!
A lot of people ask how you can attend and unfortunately you do have to have credentials to attend. I attend as a retail buyer and had to apply + show proof of shop/business ownership to be able to enter. I also did see some name badges for media (like the Oprah Magazine) where their editors may be walking the show to get insights to trends for the season. There are also the big buyers like Target, Anthropologie, Paper Source etc walking the show and I know it's a huge deal for smaller brands to make those contacts in person.
Trade shows are not for the faint of heart, I'm not exaggerating when I say the investment to attend and participate in a large trade show can be in the 5 digits. I've heard from businesses who exhibit when they say it can take a full year to see it pay itself off as buyers don't always write orders immediately.
The past few years when I've attended, I've always had a "plan" (which is kinda laughable looking back!) I would allot a buying budget and make a list of every brand I had interest in seeing + business I wanted to meet in person. And without fail, the past two years it was like letting a kid loose in a candy store. I want to bring so much into the shop because I personally love it and just know you guys would too. So I really have to reign myself in because blacking out at a trade show is a much larger hit on your bank account than a Target black out lol
This year, it was really fun getting to walk the show with my fellow stationery shop biz bestie, KB who owns Calliope Paperie in Natick, MA. We became friends via the world of Instagram years ago and have since become in real life friends. Let me tell you how amazing it is to have someone who is in the same specific industry as you who you can truly bounce ideas off of, as well as someone you can genuinely vent to because she 100% relates!
We walked the show together after we meshed our lists (of brands + people we wanted to see) and would flitter off every now and then to see brands that were maybe a bit more specific to each of our tastes/stores. Not to mention I was running to the bathroom every 30 mins too (did I mention how extra tiring it was to be on my feet for 10+ hours while 6 months pregnant?) KB was a real MVP for slowing down so I could keep up as well as understood that when I said I was hungry or needed a snack - it was time to hustle to get this girl something to eat!
I ended up placing several orders I am extremely excited about and have them tapered to ship between now and the next couple of months. I can't wait for you guys to come see what I picked out!
Scroll on down to see all the photos of some of the fun things I loved at this year's show - p.s. There's even a section at the end of all the places we went to (mostly food) while not at the show :)
Also if you want to see more behind the scenes, I created a highlight via Instagram of my 3 days there!
THINGS I ATE IN NY + SHOPS I VISITED:
EATS
Supermoon Bake Shop: fancy and fun croissants
Meatball Shop: delicious meatballs and spaghetti
Boba Guys : had the strawberry matcha boba with oat milk
Joes Steam Rice Rolls: MY FAVORITE THING I ATE (loved the order with shrimp and I may have eaten two plates of this)
Momofuku Noodle Bar: loved their buns + ramen
Liberty Bagels: had this twice, my favorite was the cinnamon raisin with plain cream cheese - I even carried home 4 bagels in my purse for Evan
Magnolia Bakery: one night after dinner, KB and I got an entire box of mini cupcakes to eat back at the hotel room lol
THINGS TO DO
Chillhouse: where I got my cute manicure - counts as a business expense doesn't it? For all the card holding pictures? They specialize in nail art and use "clean" nail polishes. Their staff is extremely helpful for those of us (ahem, me) who can't decide on colors.
Goods For The Study: dreamy stationery shop
CW Pencil Enterprise: one of my favorite little gems
Greenwich Letterpress: a cute stationery shop
Pink Olive: stationery + gift shop