---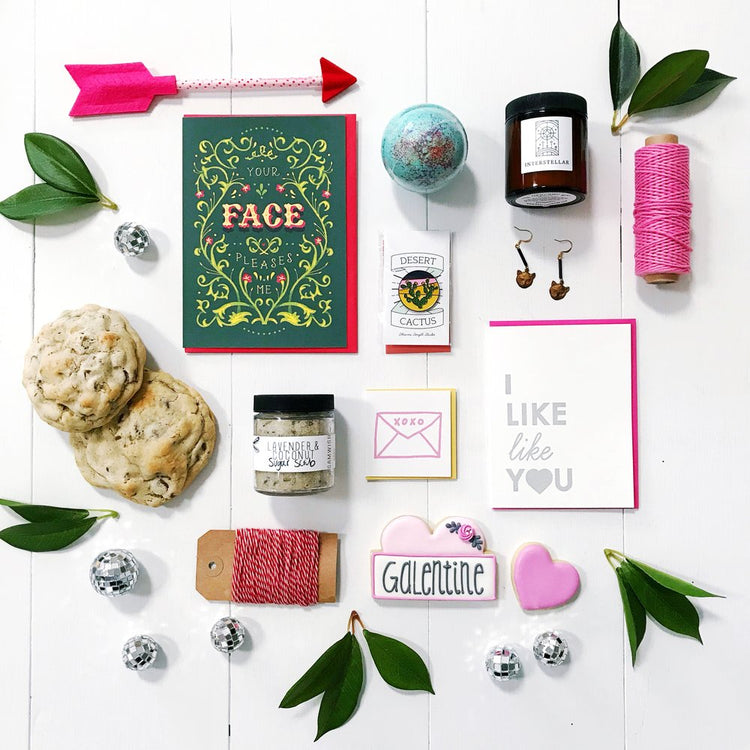 Once a year, we host an extra special workshop in our studio for Galentine's Day because we feel like it's so important to celebrate sisterhood and women owned businesses! And also partially because we love any excuse to throw a fun craft party! 
We've hosted over 50+ women for this special class over the past two years and are just days away from our third Galentine's Craft Party! What makes this particular workshop so special? Besides surprise D.I.Y.s, and fun treats, our attendees receive one heck of a goody bag sponsored by some of the very best, women owned businesses we know and love. 
The talents of these women never ceases to amaze us, from their evolving product line to incredible design, and how they inspire us every single day to do what we love. 
And this year, although our workshop sold out in record time and we know some of you feel like you missed out, don't fret! We're giving you a peek ahead at what you can find inside these goody bags so you too, can treat yourself (or your best gal pal) this Galentine's!
---
SAM WISH 
Get ready to meet your new favorite natural apothecary line! Sam does an incredible job using all natural ingredients to formulate recipes and blends that not only smell good, but have specific properties to suit your body's needs. We're a huge fan of her scrubs and essential oil blends like self love and her magical get un-sick stick!  
---
LATIKA SOAP 
It just takes one look at Latika's bath bombs for us to day dream of some self care time unwinding in the bath. You're going to have a hard time figuring out which scent is your favorite since they're all incredible! p.s. Latika only uses the highest quality oils and ingredients in all of their products so no need to worry about artificial additives! Our current favorite bath bomb scents are relaxing and fun but we can't wait to try this one next!
---
HERLAND HOME
We don't know about you, but we're huge fans of candles. And consider ourselves self-proclaimed candle experts :) So naturally we were blown away when we found out that these beautiful candles were made with coconut wax and not the other traditional waxes used in most candles. Besides their unique wax, we can't even begin to tell you how incredible Priscilla's scent combinations are. Our current favorite is a tie between this warm scent and this dreamy scent. 
---
SHAWNA SMYTH STUDIO
If you don't already know of Shawna, you're going to want to give this talented North Texas gal a follow. We're partial to her incredible talents with her hand lettering as well as her love for turning her love of cats into the cutest stationery and pins! 
---
TEDDY V. PATISSERIE 
Y'all, Elisia makes hands-down, the very best chocolate chip cookies in the entire state. Maybe even the entire world. It's times like these we love that everything is bigger in Texas because these cookies are gigantic + delicious. She even has a gluten free version with walnuts! You can place an order for pick up or delivery in Austin! 
---
SWEET ELISE
We were smitten the moment we came across Sweet Elise, a home based bakery serving up some adorable decorated cookies! Just take a peek at their Instagram and get ready to get a very real sugar craving! You can place your order with your choice of cookies, cakes, mini deserts and cupcakes! 
---
KATIE MADE THAT
We first met Katie when she joined us for one of the biggest markets and events we host in our studio. Not only is she one of the kindest souls you will ever meet, but she's one seriously talented gal! From impeccably designed stationery to gorgeous art prints, there's not much this girl can't do! We personally have this print but have also been eyeing this one (and this one too!)
---
RUST AND PEARLS 
There's nothing we love more than supporting fellow women business owners, and it's just an added bonus that the gal behind Rust and Pearls is one of the best people we know! She has an eye for designing some of the best jewelry pieces using designs that are timeless and wearable for every day. Did we also mention that her jewelry is incredibly accessible and won't break the bank? So treat yourself this Valentines to something you'll have in your accessory wardrobe for years to come! 
---
PINK CHAMPAGNE PAPER
Not only is Kelly one of the best wedding invitation designers out there, she's also the queen of calligraphy and lettering! Kelly has been one of our in-house calligraphy workshop instructors for over a year and we just love having her share her talents with our community! If you're ever in the need of all things invitations, she's your gal! 
---
ALLIE BIDDLE 
Allie was one of the first stationery designers we started working with when we opened! We fell in love with her darling designs and use of little hand stitched elements in her cards. This talented gal is also our hand embroidery instructor and shares her love of stitching with us through her stationery and talents. We're currently big fans of her new mini cards! 
Be sure to check out these incredible small business owners and support them this Valentine's Day (and all year long too)! Know of other small Texas based businesses we should know about? Let us know in the comments!