---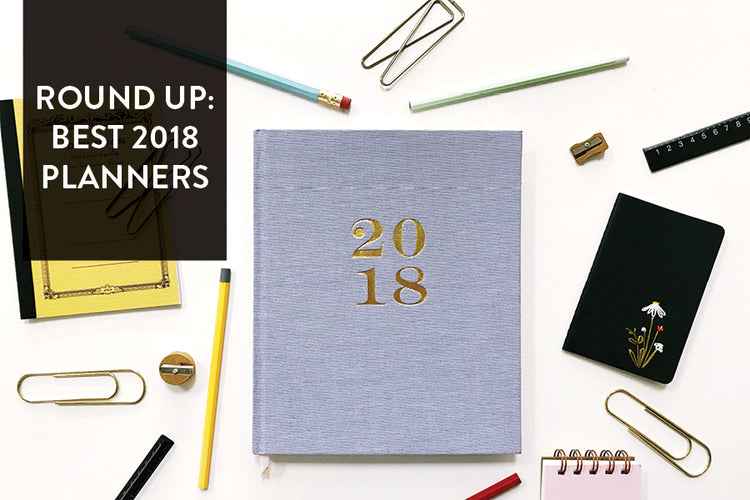 How has everyone week been? It's been finally warming up here in Austin and we couldn't be happier. Let's just say, having an official "snow" day last week through our schedules for a loop! And also, Texans just can't deal with that kind of cold. 
We've gotten a ton of messages and questions from you guys about what some of our favorite planners are. Although we carry a very small selection of planners that are undated (because they're so seasonal, we don't stock a ton of planners for just that reason), we definitely can point you in the direction of some of our personal favorites :) 
There truly are so many options out there, that we really do believe there is the "one" out there for you regardless of budget or interior content you are looking for your planner to have. Some people love having a ton of structure, space for to-dos, lovely quotes while some just want to create their own lay out with a bullet journal. 
These are our top picks for 2018 if you're still on the market for a planner, or just save this info for the next year! 
Meet:
The planner that has, literally, anything you want. 
Why we love it:
There are loads of customizable planners and agenda companies out there, but Golden Coil stands out to us because it's truly one of the easiest to navigate to create the planner of your dreams. You choose your start and end date, can even upload events and holidays to be printed on the pages that may not be the traditional holidays on most calendars, choose from several vertical and horizontal layouts, additional pages that can help track your budget or even meal plan, project planning pages... do we need to say more? 
Definitely our top pick for the custom agenda + planner of your dreams! 
Meet:
The planner that doubles as your daily motivator.
Why we love it: 
We love the monthly overviews and the beautiful typography quotes on the first tab of each month. These aren't your average inspirational quotes, they are real, powerful and meaningful. The minimally designed pages inside has tasks sections for you to customize week to week, a graph note section on the bottom for notes or project tracking as well. 
3. DATELESS FOIL PLANNER - CLAP CLAP
Meet:
The planner you're not going to want to put down. Seriously.
Why we love it: 
We're not joking when we say this is the softest + smoothest planner cover we've ever laid our hands on. Not to mention the pops of gold foil accents, this planner adds a tiny bit of flair to any desk. This is a dateless planner, which means you have to fill in the months + dates on the pages - and we love this because you can start using your planner at any point you choose! This planner is filled with weekly, monthly and yearly pages plus an additional 58 grid pages for all your note taking needs. 
4. 2018 SIGNATURE AGENDA - SUGAR PAPER
Meet:
The planner that is classic, simple and a tried & true workhorse. 
Why we love it: 
If you're looking for something a little more traditional, this planner is it! With a monthly over view that's broken down into weeks and a simple notes + don't forget section with each week, this planner makes simplicity elegant and timeless. The linen chambray cover feels luxurious and is understated. And we love the subtle hint of blush cotton ribbon as page markers! 
Meet:
The planner that checks in with you weekly to keep you on track.
Why we love it: 
Each month starts with a core check-in, prompting you to check-in with how you are feeling to set up for the upcoming month. These are broken down further weekly with sections like "3 things", "stop doing", "want to change" and "gratitude". There's no better accountability buddy than this planner if your goal this year is to commit to trusting your gut and aligning your actions with your feelings! 
Meet:
The planner that is your blank canvas, ready for you to turn it into your masterpiece. 
Why we love it: 
This is the dot grid journal you've been looking for! With extra thick pages, your favorite pens + markers won't bleed through - they're even thick enough for you to paint on! If you're not sure what dot grid journaling is, don't say we didn't warn you about the Pandora's box you are about to open. It's so incredible how people have turned dot grid pages into the most magnificent planners, weekly trackers and so much more! Bonus? This journal has a pocket on the back that's perfect for keeping your bits & bobs!
Have a favorite planner you think we need to know about? Let us know in the comments below :)