---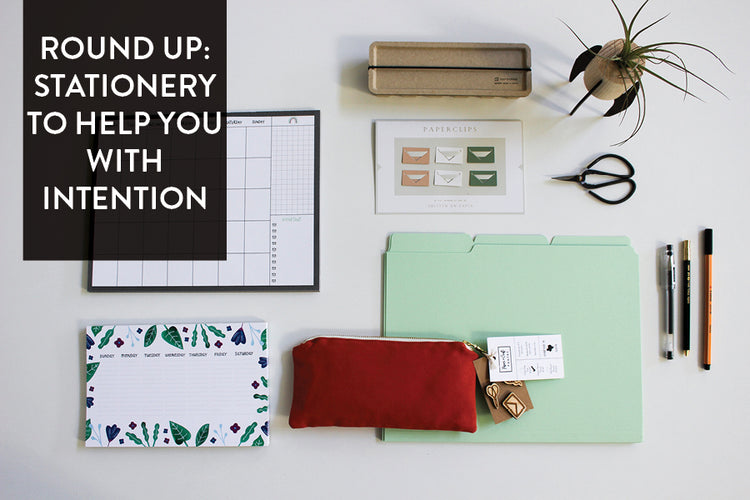 Starting the year off right means so many things, mindset, picking a word, setting new goals… the list can go on!
We're here to help you set yourself up for an intentional year- no matter what your intention may be with some of our favorite stationery that are tried and true. We tested out all of these, and even personally use these in our every day so you know it's good ;)
Sometimes, setting yourself up for success is as simple as having the right tools at your fingertips- in this case, the right stationery!
Best Writing Tools For An Intentional Year:
Having something to write with is the key to getting all of those ideas that pop into your head, down on paper! Come by our shop and test out our amazing collection of pens and find your favorite. We think everyone should have their go-to black ink pen!
Best notepads For An Intentional Year:
Whether you are weekly or monthly overview kind of person, there's nothing quite like being able to look over what you have coming up at a glance. Having it all in one place to serve as a visual reminder is an incredible way to spread out all your to-dos and meetings so you don't get overwhelmed.
We also think weekly notepads are a great way to track your to-dos!
Best Correspondences + Notes For An Intentional Year
We can all agree that snail mail just makes every day better. Taking the time to write a thoughtful thank you note or just sending someone something just because can help spread a little more kindness out into the world.
There's no better way to be prepared for any and all occasions than to have a stack of your go-to cards and notes. That way, when the mood strikes to write- you've got everything you need right there in your desk drawer :)
Best Office + Desk Supplies For An Intentional Year:
Taking the time to have systems in place, organization tools at your finger tips and things that will help you stay motivated and on task may be the key(s) to work days that just flow.
Store important papers in file folders, use clips to hold documents together, store all your favorite pens in a case (one for your desk and one that you take with you!)
WHAT ARE SOME OF YOUR FAVORITE TOOLS AND STATIONERY TO STAY FOCUSED AND INTENTIONAL TODAY, AND EVERY DAY? TELL US MORE IN THE COMMENTS BELOW!