---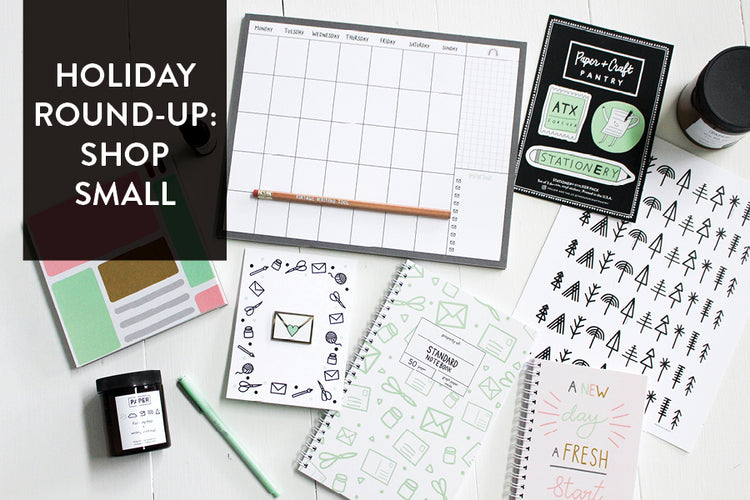 IT'S FINALLY HERE!
Our very own in-house stationery line here at The Paper + Craft Pantry! From the day we opened up our doors, it's been a dream of mine to be able to get back to designing and creating paper goods. Fast forward through the past few years of learning the ropes of running a physical shop, hosting hundreds of workshops and events (which honestly feels like it's own separate job!) there have been a ton of reasons as well as excuses why I've put it off.
To be really honest and vulnerable with y'all, a huge part of it was fear. I get to stock our shop with SO many beautiful things from truly talented artists and designers and it felt intimidating getting back to creating because I definitely fell into the comparison trap…
I'd been dreaming up the products and designs for several months but finally decided to just go for it one day in October. I know, what you're thinking, you whipped all of this up over night? Kinda. But really I think it flowed naturally since it had been something on my mind for literal years! It also helped a ton that before I started The Paper + Craft Pantry, I had my own small stationery line soI already had a lot of the resources and was able to navigate through design + production and packaging fairly seamlessly.
Let's also take a moment to think about how October was truly a horrible time to start all of this (insert face palm here) It's right before the holiday season, with two big weekends of the East Austin studio tour in November, the Thanksgiving break and holidays…. but then again, no one said opportunity and going for your goals happen when it's convenient right?
We officially launched our entire new line to the world on November 24th at our Small Business Saturday Market. I'm in the process of slowly uploading all our goods to our online shop so everyone can get their hands on a little bit of this shop's heart and soul.
I hope y'all love each piece as much as I do. I poured over so many design options to really create a collection that I felt really lent well to our aesthetic, day to day use and functionality with a whole lot of fun (and sprinkles of our favorite mint color :)
p.s. Now that we are in December and everyone is out shopping for gifts, I'd love to encourage y'all to shop small this holiday season. No matter where you are, no matter your budget, I know that I (in addition to other small business owners) would love if you're able to find that special something with us.
Shopping small makes a huge difference, directly in YOUR community. In YOUR town. In YOUR city! If you ever need a recommendation for a local business, you know where to find us- we're so happy to point you in the right direction!
WITHOUT FURTHER ADO- I'VE ROUNDED UP A FEW OF MY FAVORITE THINGS FROM OUR NEW COLLECTION BELOW- LET ME KNOW WHAT YOU THINK?
(From left to right) How cute are our stickers? You know how passionate I am about properly spelling stationery :) And also, there's an actual paper person! I was so excited to partner with Jess, owner of Tiny Deer Studio, for our extra large enamel pin. Our little spiral may be my favorite thing because of it's convenient size, but also, the inside pages are BOTH lined and graphed!
(From left to right) We partnered with one of our favorite local candle makers to create a custom candle scent for the shop! I told Priscilla, with Herland Home, that I wanted a candle that smelled like writing a letter at a vintage secretary desk. And she delivered- because she's magic! That little dropper bottle is filled with the scent we diffuse in our shop, it's kind of become our signature scent that everyone swoons over when they come in our doors.
(From left to right) Our color block note pad adds some colorful fun and features 100 pages! We created a monthly calendar notepad spread that will last you several years! It also features a section for notes and place for making lists! Our larger spiral features graph paper and will likely become your new best friend if you get your hands on one :)
CHECK OUT MORE OF OUR PRODUCT LINE ONLINE!