---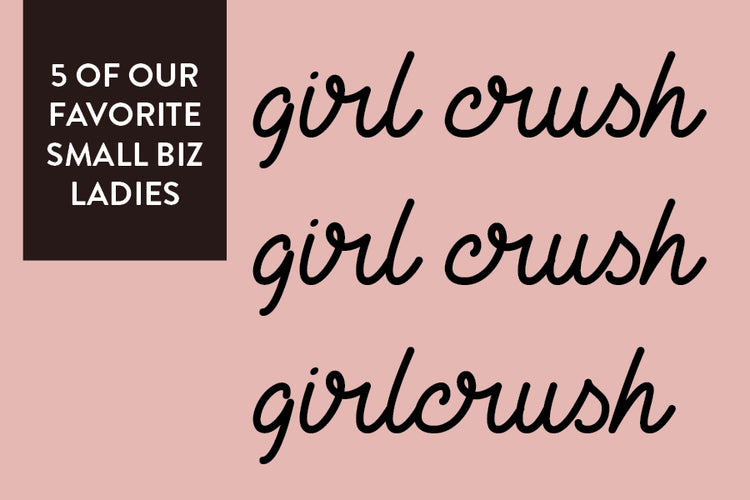 Valentine's is just around the corner, but if we're being real here, we're all about GALENTINE'S! Not like we need an excuse to celebrate our favorites and girl crushes, but we wanted to take the time to share about five of our favorite women in business. All of them own and run their small businesses with the talent and tenacity we hope we can someday achieve.
These may or may not be women you already follow or know, but y'all the world of small business ownership can be lonely and hard when you feel like you're in it alone. And these wonderful women make this whole journey so fun and magical. Because even on the hard days, it's inspiring to look to them and be reminded that it's so worth it.
MIRANDA ANDERSON
Who is she: Mastermind behind Live Free Creative, the Live Free Creative podcast and a D.I.Y. rock star
Follow her: @livefreemiranda + https://livefreecreative.co/
Why we love her:
We're still sad Miranda moved away from Austin, but we're so happy she visits us multiple times a year. She's our Shibori Indigo queen instructor and one of our favorite creatives of all time. She launched her print shop where she shares her amazing photography from her travels and adventures. She also started her podcast and let's just say, we look forward to the new episode each week on Thursdays!
NOEL GARY
Who is she: Paper trend maven, editor and blogger at Oh So Beautiful paper
Follow her: @beautifulpaper + https://ohsobeautifulpaper.com/
Why we love her:
We met Noel IRL at the Stationery Show and both laughed about how it felt like we've known each other considering we're Instagram friends :) She's got the keenest eye on stationery and paper trends. Her feed is to die for- if you're ever needing something to brighten your day, go take a scroll. She also opened up a event, photography and workshop community space in DC called The Common Room and you bet we're hoping we can one day share some P+CP workshop magic in her space!
JULES HUNT
Who is she: Blogger and editor of Om And The City and the sun shiniest person you'll ever meet
Follow her: @omandthecity + https://www.omandthecityblog.com/
Why we love her:
We first met Jules when she (and her now fiance and CUTE pup Luna) popped in our old 6th street studio. We immediately adored her energy and bonded over our love of plants. They were just visiting Austin but dropped some hints they would be moving to Austin soon- and boy are we glad they did. Jules radiates. Period- it's hard to describe unless you've had a chance to meet her. She shares so much valuable information through her blog as well as her Instagram. In a sea of oversharing and bloggers pushing an agenda, we know that what Jules shares is truly what she believes in. We're so proud of her new guide book to Simplify & Thrive and we think you'd love it too!
MEG SUTTON
Who is she: Designer and owner at Belle & Union, owner of a brick + mortar, and a true southern belle
Follow her: @belleandunion + https://www.belleandunion.com/
Why we love her:
We've been CRUSHING on Meg and Belle & Union way before we even opened up our shop. And not to be cheesy about it, but we're still swooning over how lucky we are to call her a friend (like we're texting friends now!) Her attention to detail with her design, coupled with her letterpress technique makes Belle & Union stand out in a very full stationery world. Meg's commitment to USA made and quality is something every small business should aspire to. Belle & Union also has a brick + mortar in San Antonio (anyone wanna road trip?) and y'all, it's BEAUTIFUL. She also hosts some workshops and we're particularly eyeing on one of her letterpress classes in the future!
CHELSEA WARD
Who is she: A stationery designer at Sketchy Notions, painter, artist and published author
Follow her: @sketchynotions + https://sketchynotions.com/
Why we love her:
Chelsea makes us wish that California was our neighboring state- that way we could see her all the time :) We met this talented gal via the world of social media and instantly fell in love with her art work (and her!) We finally got to meet in real life at last year's National Stationery Show and meeting her in person just confirmed that she truly is just as warm and fun as the beautiful art and stationery she creates. She painted a new calendar for 2019 featuring Tiny Plant Ladies. And we just about had a heart attack when we saw a sneak peek that she was painting Pei as one of her Tiny Plant Ladies.