---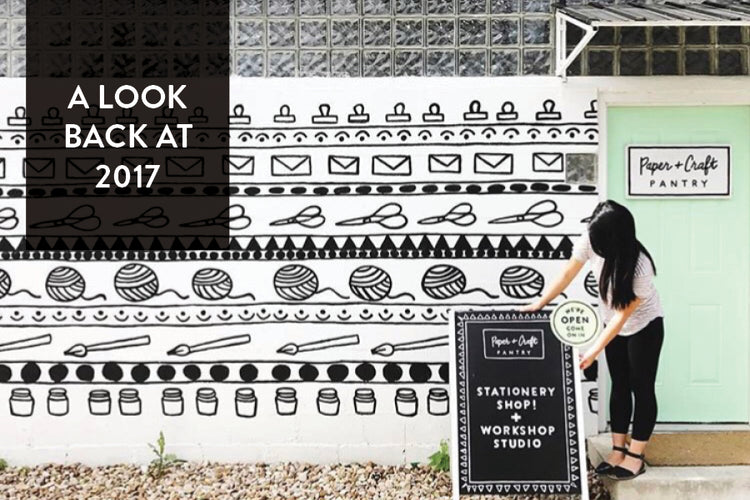 Happy 2018!
Even as we are making our way through the third week of the year, I feel that it's really important to always take time to reflect back on the previous year. I wrote a 2016 review last year and from all the positive feedback, I am so excited to share how 2017 looked for us.
Since our post last year, we've gained a lot of new readers, customers, followers and friends :)  So I'll just share a short intro! 
I'm Pei — the owner + founder of The Paper + Craft Pantry. As a stationery fiend and D.I.Y.er, The Paper Craft Pantry has allowed me to share two things I love the most and create a thriving small business right here in Austin. 
If I'm being completely transparent, I've had this post drafted for weeks now but had been finding it hard to hit publish because I'm not certain what I've shared below is what people want to hear. But in the spirit of honesty, I think we should all be vulnerable and open up about what struggles we run into and how we grow from all of it. So here goes nothing! 
HERE ARE THE TOP 5 THINGS I'VE LEARNED THIS YEAR AS A SMALL BUSINESS OWNER:
1. TIME MANAGEMENT + BEING INTENTIONAL WITH HOW I CHOOSE TO SPEND MY TIME AS IT RELATES TO BUSINESS HAS BEEN CRUCIAL. 
One of the things that hasn't changed from year to year, is the amount of emails I get asking me why I got started, how I got started, how I managed to take on a small business financially, how I acquire clients and customers, how to turn those customers into loyal fans, how I grew my community etc. 
Although I do my very best to respond to everyone, and at the very least direct them to one of the posts on our blog that may help guide them, it truly is impossible to carve out precious time of the work day. I know that may seem a little harsh, but every 3-5 minutes dedicated to responding to every email adds up and that takes time away from me actually focusing on growing my business. Don't get me wrong, I'm always supportive of the community and am happy to lend knowledge to fellow business owners. But I will prioritize folks I have built a relationship with, a relationship that gives and takes — not just takes if you know what I mean. 
It's so much more meaningful and powerful for me to invest time into quality business relationships and support them thoroughly vs. randomly answering business questions for dozens of business owners. I learned how to politely decline or direct someone to someone else who may be better able to support them - and to offer monthly business mentoring, one small business at a time. 
2. PREDICTING THE FUTURE IS IMPOSSIBLE. 
From workshops to stationery we stock on our shelves, there's no shortage of amazing class content or paper goods we can offer to our community. But boy is it hard trying to guess what people will want or be interested in. 
Choosing our workshop instructors happens fairly organically and that's the best part! I pay attention to what our community is asking for and saying to know what kind of class content they are interested in, and I'll sift through instructor submissions to see if someone is the right fit or if there is a current instructor who would be wonderful to host a workshop with! It helps that one of our parameters is that our instructors have to own their own business so it makes the selection process a lot easier! 
With product, it's easy to get sucked into seasons and trends but trying to stay true to high quality and timeless designs has turned our shop into the destination for unique stationery. If you're curious on how we decide what stationers to work with, you can read more here. 
There's no telling what we just can't keep in stock because they keep flying off the shelves, or what workshops will sell out in mere hours. So instead of trying to predict, I've been working on listening to my gut about workshop + stationery decisions because they always turn out to be what's best for the business. 
3. SLOW AND STEADY WINS THE RACE. 
It just takes time y'all. There's no secret sauce or recipe (at least no one told me about it) to success. When The Paper + Craft Pantry first opened, we had a huge opening weekend with a media night, grand opening party in addition to several workshops over that weekend. Our first official day open, was a miserably cold and wet November day - and not a single person came into the shop. My first thought (besides that it was freezing cold) was "oh s$%t, what have I gotten myself into...". 
Even though I felt like I had done the work in the many months leading up to opening, the work wasn't done. It takes time for folks to learn about what we were, where we were and who we were. And I'm proud to say that we're putting down really solid roots here in Austin as we've grown! 
As for our events and workshops, we started out by hosting 1 workshop or event a week. And slowly built our community and generated buzz about each event. As we grew our community, we listened to what they asked for and were able to slowly add in more workshops and events we knew folks were interested in. 
I've  played around with timing of workshops, certain dates and days, pricing, class content, ads, giveaway collaborations, you name it, I've done it. Because at the end of the day, this studio is here to serve each of you and that will always be top of mind when deciding what workshops or events to put on our calendar. 
4. RUNNING A BUSINESS HAS MANY FACETS AND TAKING TIME TO LOOK INWARD TO SEE HOW I CAN GROW THE BUSINESS HAS ALLOWED ME TO EVALUATE WHAT MY BUSINESS NEEDS. AND HOW TO TRULY GROW MY AUDIENCE.
Social media is definitely a hot topic between small business owners. It's so easy to get sucked into the numbers game, battling algorithms, feeling the need to have an Ad Spend budget for all forms of social media, and walking the line on sending out the right amount of newsletters, just to name a few — comes up in conversations between small business owners all the time. 
Yes, there's Instagram and their ever evolving algorithm. For me personally, I had to take a step back and realize that followers didn't translate to $. And each like didn't necessarily translate to $ either. I've chosen to use Instagram to connect with our community of followers, inform them of what's happening, and hopefully, to inspire in some small way. 
The thing I've been working really hard on is to grow our newsletter list and to create simple yet powerful emails that go out to our subscribers weekly. I love that they chose to give us a way to connect back with them so it's special to be able to offer our subscribers insider tips + deals! 
5. DOING IT ALL DOESN'T EXIST. 
I get asked all the time, even praised, on how I'm able to do it all. Have a personal life, a family, regular work outs, vacation time etc. all while running a business. 
Fact: I don't do it all. 
There are some days I feel like I'm nailing this whole small business things and there are other days I feel completely overwhelmed! There are days I feel like I'm a better friend and business owner while letting my workouts fall to the side. And there are days I'm focused on other aspects more than others - and that's okay. To me, balance ebbs and flows. 
6. SOMETIMES, THINGS DON'T WORK OUT THE WAY YOU THINK OR WOULD LIKE. AND IT STINKS. BUT IT'S OKAY.
There have definitely been some hard days (even weeks), and I think just giving myself some time to feel down, feel a little defeated is an important part of this whole process. Learning to dust myself off, and audibly telling myself "You can do this" helps me refocus and get back to work, as silly as it may sounds.
Having a great support system and community is also another huge factor, there's nothing more reassuring when you share with a fellow small business owner some of your struggles and them exclaiming that they're feeling the same way or are going through the same thing!
Okay, real reality, I've also learned to be a little more cautious about business related relationships. There have been several instances I felt "burned" by things that had transpired from a place of community over competition. They are few and far between, but they do happen and when they do, it really stinks! But everything is a lesson to be learned, and trust me when I say I've learned from these situations! 
I truly hope this incredibly honest post resonates with you. Even if it helps you realize you're not alone! 
If you have any additional questions feel free to leave them in the comments, below. I'd love to hear from you! 
Cheers to another amazing year,
Pei