---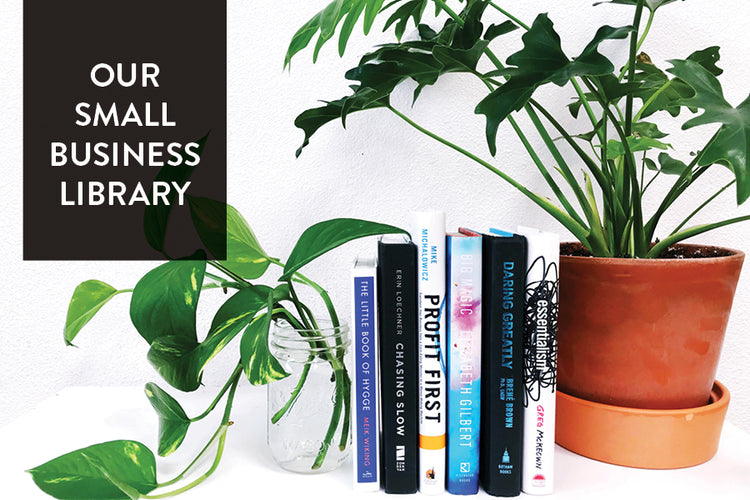 You all know by now that we host a monthly book club series as a part of our community initiative here in Austin. Since our first meeting in 2015, we have read dozens of personal and business development books to novels. We're partial to business related books since we are equally passionate about supporting fellow small business owners! 
This post has been one we've had on our editorial calendar for quite some time because if we're being honest, having to choose just our favorite small business related books was HARD. There truly are so many great authors, books and subjects out there! So we asked our owner and founder, Pei, what her top picks were. She is the one who usually leads our book clubs, and has a book on her at all times! 
Without further ado, here are her top recommendations for books to keep in your arsenal or add to your collection. We've even asked her to share what she felt like her biggest takeaway was from each of the books she selected. 
Hey y'all! I'm so excited to pop on the blog to share this list with you. It's hard to believe that this year will mark FIVE years of small business ownership. And even with those years in my pocket, I am a true believer of always learning, growing and evolving both personally as well as professionally for my business. These books have found their way to the list of books I frequently revisit, or reread because their pages are riddled with post it notes of reminders of the parts that resonated with me the most. These are also books I recommend, without hesitation, to friends and fellow business owners who need a little inspiration. 
SMALL BUSINESS LIBRARY BOOKS
1. THE LITTLE BOOK OF HYGGE BY MEIK WIKING
You may be wondering why this book made it's way on my list, how on earth does this have anything to do with business? Well, I think by bringing in a little bit of the hygge mindset to both your life in and out of work can have a profound impact on your day-to-day. Creating a cozy space at home where I can truly unplug and feel settled has helped me tremendously since it can be sometimes hard to draw the lines of boundaries of not taking work home with me. And being able to apply those same principles to the physical shop has helped our team feel like it's our second home, and we've even have guests in the shop mentioning how much they love spending time in our space (so we're on to something!).
Biggest takeaway: When you feel good, when the environment you're in feels good, when the people around you feel good, everyone wins. 
2. CHASING SLOW BY ERIN LOECHNER
The title of this book intrigued me from the get go. The idea of slow seems so foreign in a world that spotlights all things fast. Faster service, faster deliveries, faster turn around times.... fast, faster, fastest. It seems like everyone is trying to out run, out do and out business each other. But what if we shifted that perspective and deliberately chose to move at a slower pace, to have time to appreciate what we already have instead of chasing after what we don't? 
Biggest takeaway:
Giving yourself a free pass. Everyone is guilty of being imperfect whether that's in a relationship, partnership, with work etc. We empathize with others who mess up because they're human, but what about being a little more forgiving and less judgmental when we ourselves, fall short from time to time? 
3. PROFIT FIRST BY MIKE MICHAELWICZ
This book was by far the biggest light bulb moment of 2017 for me. Money and finances when it comes to small business gives most business owners an eye twitch. This book was extremely scary to read because I was so afraid I'd learn that I was a terrible business owner and should just quit. I know that seems dramatic but it's true! For a business that doesn't have investors or take on debt/credit, cash flow is one of our biggest rollercoasters. There were times where it felt like we had an abundance in our accounts, times where it felt like there wasn't enough. And that feeling pretty much went back and forth, all the time. Talk about stressful! 
Biggest takeaway: Allocate. Allocate. Allocate. Learning how to properly allocate every single dollar that came in made a huge impact in my relationship with money for the business. I now know where every dollar needs to go. A portion to operation costs, a portion to profit, a portion to taxes etc. It took me some time to sort out those exact percentages (that differed slightly from the recommendation in the book) and there was a learning curve for sure. But now, money feels good (like it should!). 
4. BIG MAGIC BY ELIZABETH GILBERT
This was one of the books we read last year, in 2017 for our book club. Elizabeth shares about things that most creatives struggle with, inspiration and creativity. I loved that she shared personal stories throughout the book, it's a book I re-read when I need a dose of inspiration and a reminder of following through with creativity! 
Biggest takeaway: The Amazon/book story. Spoiler alert if you haven't read this book yet! The story of a book idea that got pushed a side, time and time again. And before she knew it, someone had written that book that was her idea. I love thinking about how no ideas are "ours", they come to us wanting to be developed, and grown. They stay with us for some time, but if we ignore it and push it to the back burner over and over, it'll go find someone else who can develop and grow it. 
5. DARING GREATLY BY BRENE BROWN
When you own your own business, and if I'm being honest, just life in general, scarcity can be a very real thing. There never seems to be enough hours in a day, money in your account, orders coming in...the list could go on! It can often stem from comparison especially when it comes to social media and the portrayal of what a perfect life should look like, or what a successful business owner should be. This book breaks down those myths and gets you to think beyond what we know by digging deeper. 
Biggest takeaway: "It is not the critic who counts; not the man who points out how the strong man stumbles, or where the doer of deeds could have done them better. The credit belongs to the man who is actually in the arena, whose face is marred by dust and sweat and blood; who strives valiantly; who errs, who comes short again and again,because there is no effort without error and shortcoming; but who does actually strive to do the deeds; who knows great enthusiasms, the great devotions; who spends himself in a worthy cause; who at the best knows in the end the triumph of high achievement, and who at the worst, if he fails, at least fails while daring greatly."
Don't take your critics too seriously, there will always be a critic, there will always be someone who doesn't understand your business, heck, there will even be someone out there who just doesn't like you for no reason at all. And that's okay. 
Listen to Brené's talk on the quote above here. 
6. ESSENTIALISM BY GREG MCKEOWN
I used to get so overwhelmed by my to-do list. I have one for my personal life/home and one for the business. There was always so much to do, so many little things. There would even be times where I didn't know where to begin, or feel like I did so much during the course of the day but really didn't accomplish much once I took a step back. The art of busyness is something most of us are really, really good at. But busy isn't always a good thing. Trying to really define what is a priority and what is important can be challenging since most of the time, EVERYTHING seems to be a priority or be the most important. This book forced me (in a good way) to step back and really evaluate what's important and get into the habit of learning how to identify what is a priority/what isn't. I still have days when things can feel a little overwhelming and those are the days I reach for this very book to remind me of the essentialist mindset! 
Biggest takeaway: Direct quote from the book " An essentialist produces more - brings forth more - by removing more instead of doing more." 
NOTABLE MENTIONS AND BOOKS WE HAVE ON OUR READING LIST:
You Are a Badass At Making Money by Jen Sincero
When by Daniel H. Pink
The Effortless Everyday by Katie Lee. 
HAVE A BOOK THAT YOU KEEP IN YOUR SMALL BUSINESS LIBRARY THAT ISN'T ON OUR LIST? WE WANT TO KNOW! LET US KNOW IN THE COMMENTS BELOW SO WE CAN ADD IT TO OUR READING LIST :)