---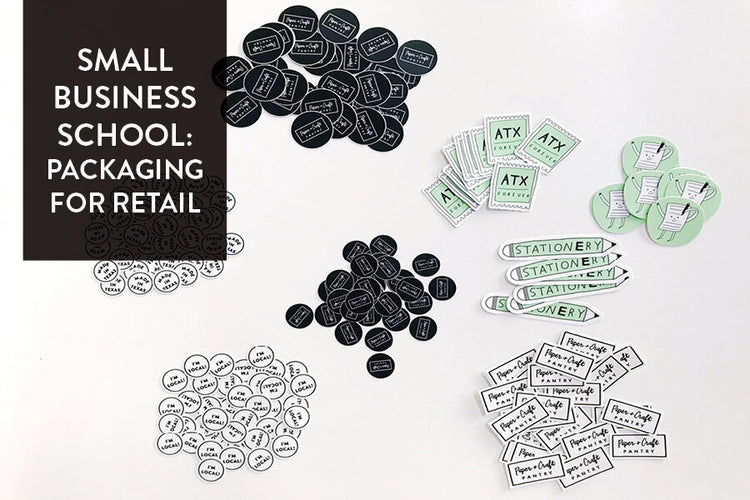 I've gotten a ton of questions over the years about having a stationery business. Having been on both sides of it as a stationery brand who wholesaled our own line, to a retail shop that wholesales from other stationery brands and now to juggling both - I do feel like although I may not know it all, I sure know a lot more than I did when I first started!
I'm sharing one of my product and packaging sources in this very post so definitely read through the end :)
There's so much that goes into the thought process of just one single product. Beyond the actual product itself I think the most important component to a stellar product is of course the design, but also the packaging. I mean who isn't a sucker for good packaging or at least something that is visually appealing. I am 100% guilty of gravitating towards a product in my personal life like these candles I saw online as well as when I'm making buying purchases for the shop. *I'd also like to acknowledge that there can be frivolous packaging that just adds to the trash pile and it's really awesome to see smaller brands making efforts to minimize waste. Several brands have swapped over to compostable packaging etc.
So when I decided to relaunch a small in-house stationery line for the shop, I knew I wanted to keep things pretty minimal for the entire line. Down to the packaging - almost all of our packaging is eco-friendly and compostable. I wanted the product to be the main feature and focus, and the packaging to be secondary yet a priority was that it needed to also informative to a guest in our shop.
I took a cue from a system we put in place back in 2015 where we made stickers that read "I'M LOCAL" and "MADE IN TEXAS" that we put on all product that were made in Austin and in Texas respectively. This made the guest shopping experience so much easier because they could easily identify what was local and what was Texas made.
I opted for an inverted BW color for our logo on small .5" and 1" stickers for all our new product line packaging so it would be easily identifiable as a P+CP product. We use it for labeling on stationery as well as on our first ever signature candle scent! These are also the same quality as the sticker set and sheets we have in the shop and I can attest that they are waterproof, dishwasher safe, durable vinyl that many stationery designers actually use for their marketing/shipping as well as sticker products.
There may be a million things on your to-do list when it comes to small business, but I hope this provides you a little bit of resource because great packaging can look like a million bucks (without actually costing a million bucks :)
p.s. If you want to try out my sticker resource, Sticker Mule, here's a link for some store credit :)