---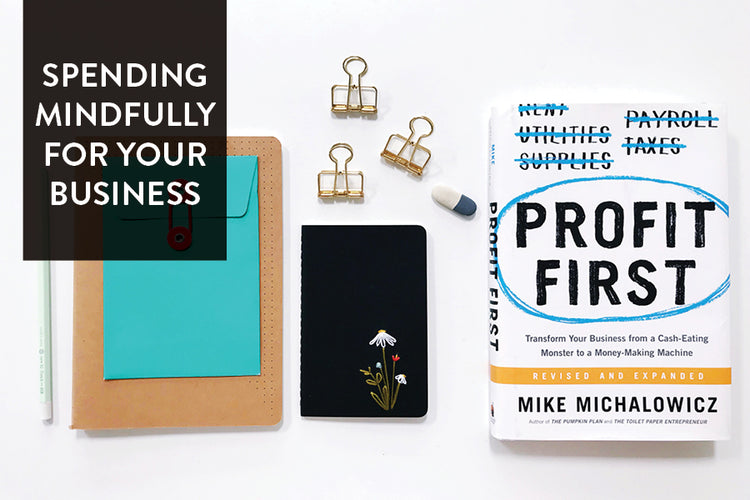 We've all heard about being mindful when spending, especially when it comes to personal purchases. More and more folks are moving away from purchasing things and choosing to invest in experiences instead. And those who are purchasing physical goods are choosing to shop from independent + local businesses. A shift is happening and we really think that in the long run, it's a good thing all around. 
When our community chooses to shop local and allow their money to make a bigger impact, we all feel it. Small businesses thrive off of loyal customers, word of mouth and even the smallest of purchases make a huge impact. Our friends over at Bravely wrote an incredible piece on Values-Based Spending you should check out! 
SPENDING MINDFULLY FOR YOUR SMALL BUSINESS
From a small business perspective and from a business owner's standpoint, learning to really know your money is so crucial in growing a thriving business. You can't be afraid of your bank account, and not know where your money is going. That's the quickest way to find yourself in a cash flow problem. We highly, highly recommend reading Profit First, whether you're just about to launch a business or you're in your 5th year of business. It's been vital in taking The Paper + Craft Pantry into it's most profitable year yet. 
According to research, 8 out of 10 businesses fail within the first 18 months. And though reasons vary, the root of it can probably be traced back to how the business was operating from the back end and how whoever was running the business was managing money. Through a lot, and we mean a lot, of trial and error (events that weren't successful, hiring and firing, misreading product trends etc.) we're still continuing to learn and navigate the world of small business. But we have learned some truly valuable lessons that we want to share with you! 
Here are the top three things to consider before spending for your business. 
Pay yourself, you're the most important part of your small business!
Number one of this list is PAY YOURSELF. A lot, and we mean a lot, of small business owners don't pay themselves. Take a moment to gasp. 
Even if it's a small amount, do it from the start, do it now and do it regularly. Some small business owners pay themselves a percentage of revenue monthly, some do a set dollar amount. Some do a monthly owners draw and some do it bi-monthly. Whatever the case, just do it. 
Can you operate your small business with less? 
One of the key take aways in Profit First was the fact that if you could hypothetically run your business for $1000 a month, you could run it for $999 a month. Save a dollar. Then the next month, try running your business for $998 and so forth. You get the point? Cut your expenses down to what you really need? Do you really need that fancy office? Do you really need that expensive new printer or will your current one do fine for now? 
Put money where it matters most in your small business.
Identify what your business does well. Invest your time, energy and money into that and do it well. By not spreading yourself and your funds too thin, you're able to really hone in on what makes your business stand out and different from other businesses. 
Owning a small business can be scary and hard, but we're here to support you in any way we can! Have a small business topic you're curious about? Let us know in the comments below!