---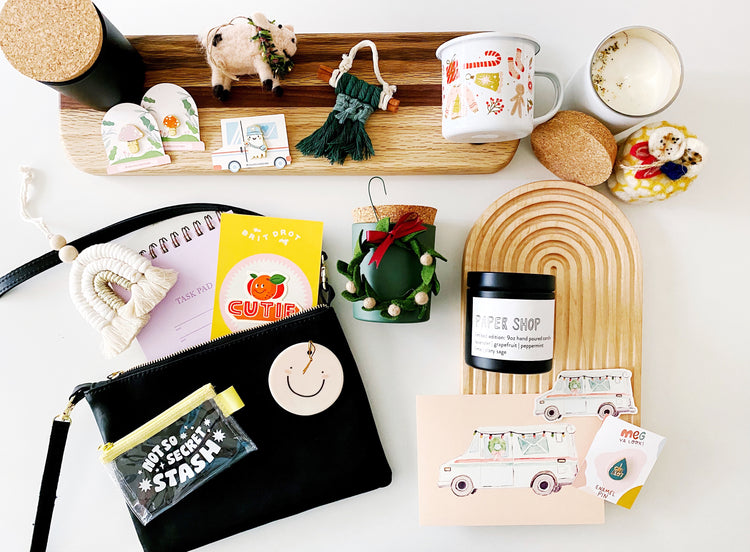 Tis the season to shop small!
I don't know about you, but I'm the kind of person who shops all year long and squirrels away little gifts for friends + family. It feels a little more intentional when something I come across any time of the year feels like it belongs to someone I know vs. the rushed or hurried fervor that comes with shopping only during the holidays. 
A fringe benefit of living in Austin as well as hosting pop up markets at the shop is that I pretty much get to shop small in a very convenient way! 
I'm going to share a quick list of small businesses I personally supported this year both for gifts as well as for myself :) 
This large cozy candle and this one both by 7th Street Candle Co. I love their all natural ingredients plus these scents are wintery without being too overwhelmingly Christmas. 
I snagged a pair of these handmade earring studs as a holiday gift for a friend by Ashdel.
I loved this crossbody leather bag in this color by Purse & Clutch but opted for the black leather because of tiny toddler hands. It'll be the perfect on-the-go, handsfree bag when we travel in a couple of weeks 
I got this plant propagation station from Awkward Auntie for myself :)
This baseball cap from Frankie Jean is going to be a really cute gift for one of my cousins. 
This sticker and this one from Kathy Phantastic are going to be cute little stocking stuffers this year. 
I have been eyeing these mini paintings from Little Green Press and got one of her cards for a plant loving friend. 
Got more than one of these pins from Meg Ya Look because I know of someone who would love this and also needed one for myself. 
Snagged another pair of earrings as a gift from Chauncey & Co Co plus this cute sticker for P 
Got a print is going to go in our upstairs guest loft and had a hard time choosing just one because all of Pen & Stem's art prints are beautiful 
I picked up a similar wall hanging from Flourish Fiber Art as a gift for someone who is expecting a new baby and also got P a minimal white + gold one. Her keychains would be sweet friend/co-worker gifts! 
Every Texan needs these postcards by Mazapan Paper Co. They're so cute!
I got this cute pouch by Brit Drot for P, she's been into rocks + crystals lately and it's perfect for corralling them in one place plus it's cute! 
Almost every year, someone I know will get some felt flowers from Zella & Kay as a gift. I love that they are everlasting and handmade by quite possibly the best human on earth.
Jollie Ollie makes some of the most fun stationery and other home/every day goods - I got some pins, an ornament and a cute enamel mug. Her shop is closed now but bookmark it to check out next year!
I got some of WatercolorATX's stickers and pretty much all of her watercolor stationery and prints would be amazing holiday gifts!
Some other small businesses I love:
While this list is by no means comprehensive or exhaustive of every single small business I love and support, I'd like to think it's a good starting point for anyone looking to discover some new small business brands. 
And maybe I'll make a goal to make a larger list. Possibly before the month of December. #goals
p.s. I can assure you with 100% certainty that these small businesses (myself included) and even those not mentioned, are so beyond grateful for your support, purchases and orders. Every single day but especially during this holiday season! 
So if you're still looking for a few last minute holiday gifts, just scroll up and click on some of those links and you'll likely find just the perfect thing ❤️