---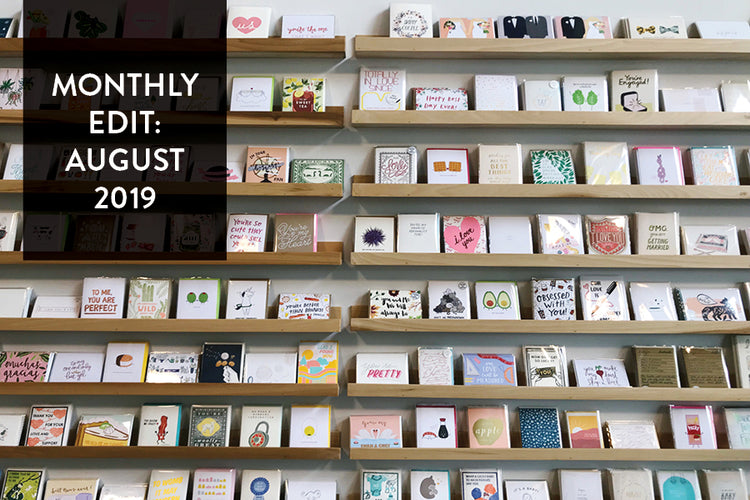 HAPPY AUGUST FRIENDS!
It's been so freaking hot in Austin I've personally been dying anytime I have to go outside- even walking to and from the car feels insane! It's still hard to believe we're in the thick of summer and there's a potential it's just going to get hotter and probably stay this warm until November. July went by so quickly but perhaps because we all blacked out from the heat haha. But most likely it went by quickly because I spent over 15 days in Hawaii (more on that below).
Read on below to see what all is going on both in the shop as well as for me :)
A QUICK LOOK BACK AT JULY:
1. Great (in)side Walk Sale
We held our first ever sale in our studio! We opened up our studio space to some fellow small businesses in town for an afternoon of fun! It was so great putting together mystery bags for stationery and greeting cards. And giving an opportunity to all of you who support us a chance to score some great deals not only with us but with our friends too!
2. Finally got our new window shades installed in our shop!
We ordered these shades in early June and they arrived a few weeks later. But y'all it was a whole ordeal trying to find someone who could install them. The sheer size of the shades as well as how tall our windows are made it complicated, but to boot there's apparently metal behind the sheet rock. Let's just say EVERYTHING takes a longer time than you think.
3. Released ALL summer workshops! Yep, all the way through the end of September!
We have SO many fun things happening for the rest of summer. If you're like us and also dreading how hot it is here in town, peek at our calendar soon and grab your tickets. We'd love to hang out with you in our studio to beat the heat!
THINGS HAPPENING THIS MONTH:
AUGUST WORKSHOPS
We only have a few more tickets left to our workshops this month! You're not going to want to miss out ;)
SUMMER CRAFT CAMP: TIE DYE PARTY
Join us for an afternoon of nostalgic summer fun as we play around with tie dye!
This fun, interactive D.I.Y. should take between 30-45 mins and you can show up anytime between 2pm-4pm to get your craft on!
You'll get to dye a cotton bandana plus up to two additional pieces you bring from home (examples of what to bring: white cotton t-shirts, tank tops, pillow cases, tote bags etc. Keep in mind that cotton/natural fabrics will dye better and be mindful to only bring a couple of small-medium items to dye so everyone else can also participate!)
Pieceology Vintage will also have a curated rack of vintage whites you can purchase to dye!
All materials for this workshop will be provided and you'll leave with 2-3 magical tie dyed pieces to enjoy this summer!
HEADING TO NEW YORK
I'm headed to New York for this year's Stationery Show + NYNOW this weekend! It'll be a short trip and definitely more focused on work because I'm on a mission to really seek out some amazing new businesses to work with. It'll likely be a little bit before I venture to any other trade shows so I plan on making the most of this trip. I'm a little nervous about flying (it's insanely uncomfortable these days) and also I'm worried about my energy levels because there are days when I feel 100% and other days where I just feel wiped out. But regardless, looking forward to seeing both old and new friends in New York soon!
If you have any recommendations for New York, let me know below. And definitely follow along if you want to peek at some BTS stuff on Instagram!
A COUPLE OF FUN THINGS
Without going into too much detail, I'm working on rolling out a few workshop kits as well as a new custom stationery feature for the shop. It's been something y'all have all been asking for and something I've been wanting to bring to life so stay tuned!
LIFE LATELY:
The Hawaii Trip + Fire
A lot of you guys know we were in Hawaii for the 4th for a planned 9 day trip, that trip turned into a 15 day trip because of a 10,000 acre fire in Central Maui that left us basically stranded in our car for 4 hours. First of all, let me tell you how horrible that is when you have to pee every 20 mins. The fire caused the only roads in Maui that went south towards Kihei, where our Airbnb was to be closed as well as burned through power lines so we also had zero signal on our phones and businesses were unable to take credit cards.
We ended up on the North West of Maui near Kanapali around 5pm and were thinking we would just go to dinner and be able to drive back once they contained the fire in the evening. I don't think we realized how serious it was until we heard on the radio (yep phones still not working here) that they were evacuating just North of Kihei and the fire was 0% contained. They had opened up shelters at local schools for both visitors and residents. I'm normally not a fancy person and would've totally been fine for an adventure or even camping out in our car but again, not ideal when you're 5+ months along.
We pulled into the first hotel we saw and it's funny that it ended up being the hotel we stayed at when we were in Maui 2+ years ago for Evan's company trip. There was a super long line in the lobby of people who were in a similar situation all looking for a place to stay, at least for the night. I think this was when I was starting to kinda get worried. I was able to log onto the hotel wifi to see if they had rooms available and booked the first room I saw online (it was STEEP) but I felt like it was important for us to just be able to shower and sleep in an actual bed after such a long eventful day.
As we were checking in, we heard the hotel manager announce to others in line that they were fully occupied for the night and they were actually having to turn people away. I'm still proud of myself for thinking to get online and book a room/being pretty good about handling stressful situations. The lady checking us in looked at us weird because I just had a little fanny pack, and Evan had a tote back with our beach stuff- no luggage. So I told her about our day and she was extremely nice and offered us a discounted rate for our room. When she gave us the keys she automatically asked us if we needed help with our bags. And right after she said that, she said "oh wait, you guys don't have any…" we all got a good laugh at that because it was true, we literally only had the clothes we had on (which was a swim suit basically).
To wrap up this Hawaii fire fiasco, I'll fast forward a little- we ended up leaving the hotel around 7am when they had opened up the roads. The fire was still not contained at this point but we didn't want to risk getting stuck again and decided to just get on the road. We made it back to our Airbnb with just enough time to check out before heading to where Evan's family were staying (we ended up staying with them in their hotel because we couldn't find another place to stay on such short notice) and it was so fun getting to spend extra time with family.
Here's a short list of things we did in Hawaii:
We stayed here for the first part of the trip, this hotel was where we crashed for the night from the fire, and here's the gorgeous place Evan's family stayed at (and were gracious enough to let us crash with them for the remainder of our time in Maui)
Best noodles (love their garlic noodles), favorite mixed plate + dole whip/Ube soft serve, my favorite shrimp chips are from here (they also have great poké in their deli area), great seafood spot, our favorite shrimp truck on the island (loved the spicy pineapple), amazing bakery with a great gf selection (their Ube Mochi Bread was my favorite), best shave ice (get the Mac nut ice-cream to go on the bottom!), and right next to shave ice they make fresh Portuguese donuts (malasadas) daily, and last but not least, favorite spot for smoothies and acai bowls, and we ate here one night as a special meal (it's pricy but worth it!).
Baby Update
So much has happened since I shared the last update- I appreciate all of the kind messages and words of love + support :) Now that we're in August, I'm officially in month 6 of growing a human. WHAT?! It still feels a little surreal and I still have days where everything feels like normal- in addition to days where I want to sleep for 14 hours.
There are so many strange things that happen to your body (all of you mom's out there know) and it's almost comically funny. I feel like nothing really prepares you for all the WEIRD things that happen.
Latest/weirdest symptom: my contacts no longer want to fit my little eyeballs… I'm not joking. So if you've seen me in my glasses more these days, that's why. My prescription/vision has also changed, apparently this is very normal and will go back to my normal prescription after all of this.
Mood swings are real- I find myself getting upset sometimes and then laughing a few minutes later. There was one day when Evan asked if I wanted him to bring me anything (specifically dessert) and I told him no. When he got home without dessert, I was actually angry he came home empty handed haha.
I can no longer eat a ton of food all in one sitting, I get full really fast and literally feel like I'm so stuffed. And then an hour later I'm hungry again.
Current craving: pancakes and cherry tomatoes. And for the record I have never liked cherry tomatoes before!
Fun surprise: I have gluten super powers- I usually eat gluten free after being diagnosed with Celiac back in 2006. My reactions are not that severe, usually an upset stomach, a rash on my legs (sometimes on my face), gluten zits on my chin (attractive I know) But in the past few weeks I noticed I'm not reacting in the same way, so I've been taking advantage, within reason, to indulge a little bit. Don't worry, I'm doing it in moderation but also 100% enjoying this temporary new found freedom.
Cutest things the dogs have done: Harley has become more attached to me than usual (and he already is pretty attached lol) he follows me everywhere when I'm home and sits in the door way like he's guarding the entry way. Fig has also started bringing her toys and placing them on my belly. It's pretty cute, I thought maybe it was a fluke but she kept doing it one night!
Anyway, I'm going to wrap up this post with the most unflattering photo of me, but also #goals I hope to find myself like this more often. Sound machine, humidifier, all the pillows + the dogs :) In case you guys think I'm killing it at life, growing a human and running a business…I'm basically asleep anytime I'm not at the shop!