---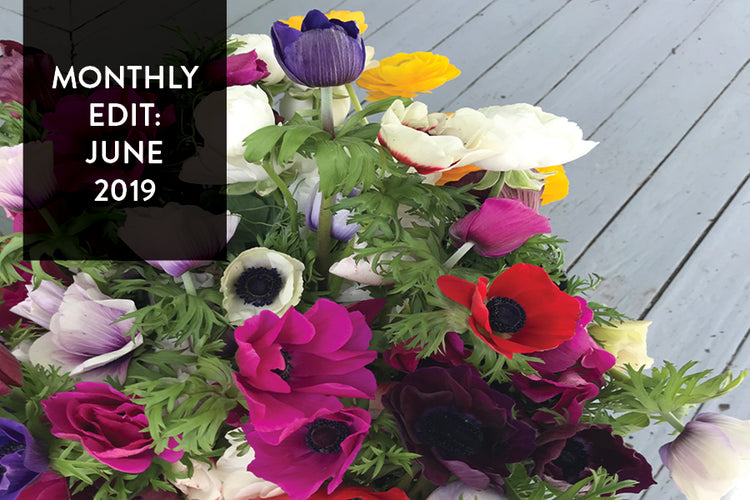 Well yet again, it seemed like I blinked and it's officially June. How crazy is it that it's already the half way point of 2019?! I feel like everyone talks about how fast time flies but I swear 2019 has been a blur.
As we enter the summer months here in Austin, I'm excited for warmer days to swim, an excuse for sno-cones and of course, making our shop + studio the cutest little paper oasis in this heat!
A QUICK LOOK BACK AT MAY:
1. Taking an entire weekend off for Memorial Day weekend was just what we all needed! As much as we hate to miss out on visitors from out of town, we value our team's work-life balance and wanted to honor us all having a true, full weekend off! Want to know what we did for the long weekend? You can read more here.
2. Y'all cleaned us out of Mother's Day cards, again! Every year, we do our best to over estimate and usually purchase extra cards. And every year, we tend to run low the week leading up to Mother's Day.
3. We firmed up a bunch of fun things for the rest of the Summer as well as Fall. It's going to be a fun rest of 2019 you guys!
THINGS HAPPENING THIS MONTH:
Shop Mini Makeover
We heard a lot of you are having a hard time finding us! And as sad as we are that we don't have our amazing wall mural like we did out our old space, we tried to bring a little bit of it with the vinyls on our windows! But we realized that once cars are parked out front, it's a little tricky to see our signage!
We have plans to mirror the vinyls on the bottom of our window to the top! And another thing we've been working on is getting quotes for window coverings for our two large windows. We LOVE all the light we get in here but as the summer months approach, the sun streams in rather intensely on our precious paper products as well as into your eyeballs (also precious lol) if you take an evening workshop with us.
We appreciate you guys bearing with us as we continue to learn all the quirks about our new space (can you believe it's almost a month away from ONE full year of us moving into this new space?
We're finishing our 6th book club read of 2019 this month and will be voting on our next three books at our meeting. If you've been looking for a community and some accountability to read more this year, it's not too late to pick up this month's book and pencil in our meeting date!
June Workshops
We've got several out of town (and even out of state) guest instructors headed to our studio this month for some incredible workshops. It's always such a treat to welcome someone new into our studio- just a little FYI: we are not able to guarantee that we will be able to get these instructors into our studio again and they often swing by just once a year or even every other year. So you don't want to miss out on your chance to learn from these incredible ladies!
A LETTER TO YOU:
A new segment I've been wanting to introduce, a short + sweet story (anonymous of course) of a sweet guest interaction we've had in the shop. These small interactions and stories make small business ownership worth it.
This man pops into our shop every now and then to pick up a card/gift for his girlfriend. She loves our shop and it's incredibly thoughtful he chooses to come by to find something for her for every occasion.
The last time he was in, he had mentioned how they were going on a ski trip together. He picked out a few belated gifts for her and was on his way.
A couple of months later, he comes back in- only he's on crutches and has a cast on his leg. Turns out he broke his leg the first day on this ski trip :( He's well on his way to healing and recovery but the mere fact he went through the trouble of coming all the way out to see us to pick up another card for her was just the sweetest!
HOPE YOU ALL HAVE A WONDERFUL REST OF THE MONTH AND I REALLY HOPE TO SEE Y'ALL IN THE SHOP + STUDIO SOON!