---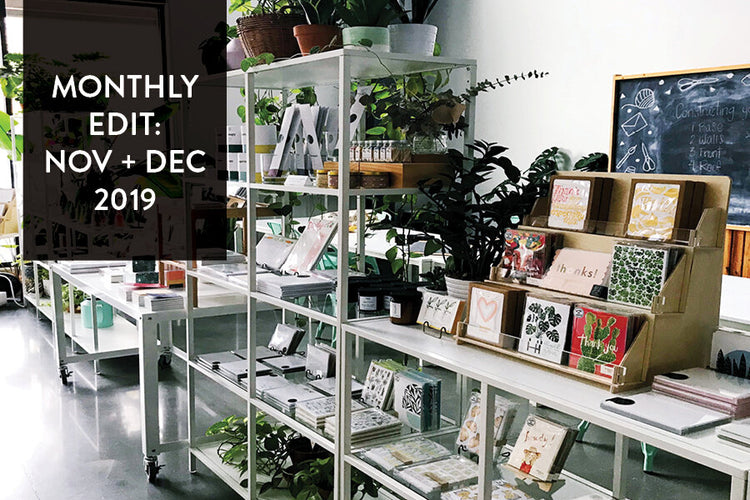 Happy cold front everyone!
It was pretty crazy how the weather dropped from muggy + warm to frigid + wintery in a matter of hours (although it felt like minutes the other day!)
I'm combining Nov + Dec's post for obvious reasons that the holiday season is just crazy for everyone and also because this baby could be here any day now! Ah! It's been a whirlwind of a year and as we head into my personal favorite time of the year both personally and at the shop, it does make me a teeny bit sad that I physically will not be in the shop through this season. Honestly, I have fomo haha.
If you haven't already been in the shop the past few months, you may haven noticed some new faces. We've grown our little team over the year and have an incredible group of girls who I cannot imagine not having as a part of the P+CP. Truly, without their support, stepping back from the shop would feel impossible and I'm so grateful for each of them.
The holiday season can bring out the best (and sometimes the worst, because it can be a stressful season!) So this is a disclaimer, I adore each of them and I will find you if you are mean or rude to any of them while I'm away ;)
Anyway, here's a bunch of updates and recaps to end this year. The next time you hear from me on the blog for a monthly edit will likely include updates of a tiny human!
4TH BIRTHDAY PARTY RECAP
November 3rd
We celebrated our 4th anniversary with a birthday party on Sunday, November 3rd! We released our new winter P+CP collection including new stationery, tote, and candle scent! We also launched our customized stationery service in the shop!
Our early birds who waited in line over an hour before we opened got an amazing goody bag - including the option to customize stationery for themselves.
It was such a fun day and we loved seeing so many of you come celebrate with us!
EAST AUSTIN STUDIO TOUR
Join us as we welcome 7 local artists into our studio for our this year's East Austin Studio Tour!

Weekend One (November 16 + 17)
Christy Beard - mixed media sculpture installation
Crystal Garcia - ceramics
Anna Muniz - watercolor

Weekend Two (November 23 + 27)
Diana Ascarrunz - photography
Kathy Phan - watercolor
Kirsten Saksa Juen - ceramics
Gabrielle Zandan - weavings
ALL WINTER WORKSHOPS ARE LIVE!
Don't miss out on your last chance(s) to join us for some creative fun before 2019 is over! Grab your ticket and we'll see you in the studio!
A LETTER TO YOU:
A new segment I've been wanting to introduce, a short + sweet story (anonymous of course) of a sweet guest interaction we've had in the shop. These small interactions and stories make small business ownership worth it.
We've had a sweet gal who has been coming into our shop ever since we were in our first location. She's popped in regularly for many months picking up cards - and as we got to know her, we learned that she was writing a card to her fiancé and saving them for their wedding day. It made us so happy to hear she was literally writing him little love notes leading up to their big and special day.
The fact that we get to play a small role in y'alls lives truly is one of the biggest reason having a brick + mortar has been the best thing - as well as being able to continue to bring ya'll the best stationery!
LIFE LATELY:
So I may have been a little unrealistic in thinking I was just going to work until the day the baby arrived. To be honest, a lot of this whole pregnancy has been a series of unexpected things happening! I'm now officially in week 37 and let me tell you, I have NO IDEA how some women are still smiling when they're this far along. I have been so miserable, more than ever!
Sure I've been tired, my feet have hurt, back aches and other typical maladies that are to be expected - but in the past couple of weeks it just feels amplified. And it also seems like a cruel joke that you get no sleep once you have a new born but the weeks leading up to it you also get no sleep because finding a comfortable position to sleep at night is impossible! My newest symptom has been really bad carpal tunnel, mostly on my right hand which makes even typing difficult. I tried watering some of the plants in our green house with the garden hose and couldn't grip the hose… the struggle is SO real.
After my doctor's appointment last week where I got some not so fun news (nothing super serious but not something I feel like publicly sharing right now at least) it occurred to me that perhaps I needed to be more realistic on my expectations for myself in the next few weeks and into this new chapter. This meant swallowing my pride and asking for support + more help from the girls at the shop, even with Evan around the house. This also meant pulling out of this year's EAST even though I'd been working on my art piece for several months. And the big change is that I am giving myself the deadline of now (like literally after I finish up this post) to officially not be working.
Taking the time to focus on myself, both mentally and physically needs to be a priority right now and as much as I don't want to, I need to!
I am so grateful for the community that rallies around, supports and loves the P+CP! A lot of you have asked how you can support me/the P+CP and honestly the big thing is to continue loving on us as a small business through the next few months. Swing by even though I'm not there and say hi to the girls - they're amazing and I would not be able to step back in the way I feel like I need to without each of them. Continue to tell your friends about our shop, visit us for Small Business Saturday, gift someone you love a workshop (or better yet yourself too!)
Don't worry, I'll still be "around" and will be popping in to update y'all on Instagram but I'll likely see y'all sometime in the new year!
xoxo, Pei